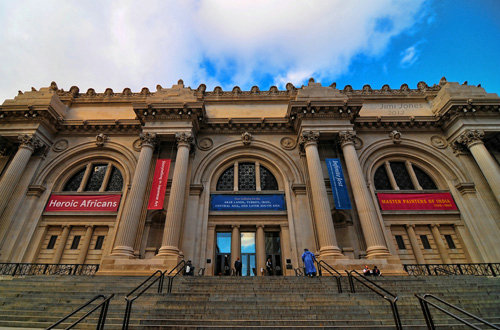 A file photo of the Metropolitan Museum in New York.[File photo]
Following the example of The Precious Collection of the Stone Moat, a special gallery featuring traditional Chinese calligraphy and painting in the Palace Museum, the Metropolitan Museum of Art announced it will hold a world-class exhibition of masterpieces of Chinese pictorial art beginning Oct 31.
As one of the largest museums in the world, the Metropolitan has acquired a massive collection of Chinese paintings from ancient to modern times. Many of them are part of the museum's permanent exhibition, but this time visitors have a very rare opportunity to see the full collection.
Masterpieces of Chinese painting will be presented in two rotations. One will : showcase the full collection, including works that belong to different dynastic epochs, and in the other, pieces that depict a wider variety of different subjects and stories. The first will last until April 17, 2016. The second group in the collection will be on show from May 7, 2016 to Oct 11, 2016.
With masterpieces dating from the Tang Dynasty (608-917) to the Qing Dynasty (1644-1911), the exhibition encompasses the vast historical sweep of Chinese brush arts, from meticulous court painting to lyrical paintings by scholars, with an emphasis on works from the Song (960-1279) and Yuan (1271-1368) dynasties.
The exhibition is one of the most important celebrations of the 100th anniversary of the founding of the Asian Art section of the museum. In the 1870s, the museum started to collect Chinese cultural relics by accepting donations of porcelains and snuff boxes from noted collectors Samuel Avery, Heber Bishop and Benjamin Altman.
In 1915, the Met officially established a Far-East section to research Asian art, and invited Dutch scholar Reitz Bosch to serve as director. Under his leadership, the museum collected Chinese pottery, porcelains, bronze vessels, figures of the Buddha, silk and paintings from different periods and regions through donations and acquisitions.
The Met ushered in its golden age of Chinese cultural relics in the late 1970s with help from Douglas Dillon, the former American treasury secretary who set up a foundation for Chinese artworks' acquisition and research, and Wen Fong, the Princeton University professor who guided the acquisition of Chinese paintings and calligraphy for the museum.
Now, let's take a glimpse at some of the masterpieces in the upcoming exhibition.