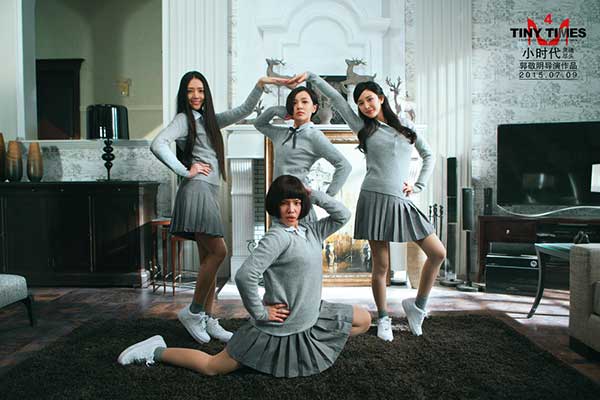 The four-installment coming-of-age series directed by Guo Jingming has brought in a record haul of 1.8 billion yuan ($280 million).[Photo provided to China Daily]
As China's Internet giants rewrite the rules of the game for the traditional film industry, a new big player backed by the world's largest game company recently tapped into the booming market.
Tencent Pictures, a subsidiary of Tencent Holdings, announced its founding on Sept 17. It aims to challenge the Hollywood blockbusters.
One of the highlights is the upcoming fantasy film Warcraft, which is adapted from the online video game. It's scheduled for release in 2016.
Cheng Wu, CEO of Tencent Pictures, said the company will cooperate with Legendary Pictures, a US film studio, to coproduce the epic adventure title.
Legendary, which is based in Burbank, California, is behind a series of fantasy blockbusters, including Godzilla and Seventh Son.
Tencent will make use of its strength in big-data collection and customer-oriented systems to tailor the marketing and distribution for Warcraft's warm-up in China, Cheng said.
Peter Loehr, CEO of Legendary East, said: "China's significance is rising among global filmmakers. We are glad to have the opportunity to cooperate with a company as influential as Tencent."
Alongside the big movies from the United States, Tencent Pictures is talking about its strategic cooperation with novelist turned-filmmaker Guo Jingming, one of the country's wealthiest authors and the director of the highest grossing franchise Tiny Times.
The four-installment coming-of-age series has brought in a record haul of 1.8 billion yuan ($280 million).
Guo will cooperate with Tencent Pictures to produce his upcoming film adaptation of the fantasy novel Legend of Ravaging Dynasties.
"In contrast to Hollywood's mature chains, China's entertainment industry lacks a complete system to develop a brand program, which should cover a wide range from TV series and movies to computer games and smartphone games," Guo said.
He expressed disappointment in some shortsighted investments - for example, adapting a TV drama series to the big screen only after it became a sensational hit.
He insists that a valued project should be developed in every aspect from the beginning.