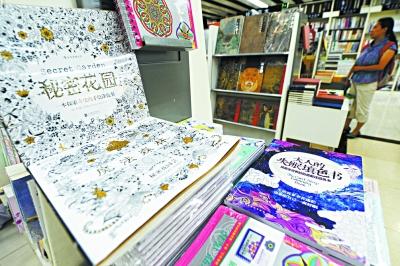 Coloring books such as Secret Garden can still be seen in many bookstores. [Photo/Beijing News]
What do the experts say?
Chen Hengda, a head at the spiritual growth center at Guangxi Science and Technology Publishing House, says that the drawings from the hit coloring books like Secret Garden are always the authors' improvisation, which requires a high coloring skill, so many people can't feel a sense of achievement and will feel frustration for their efforts, which can only make them more stressful." "Anyway, it's not suitable for everyone."
Yang Zhong, from Chinese Academy of Art, says that the coloring has nothing to do with art and it is only a mechanical and repetitive process, no creation and imagination is involved.
Xu Guosheng, an expert from the Chinese academy of Press and Publication, thinks that coloring book caters to the social reading trend, and has a great advantage in social interacting and social spread. "The hit of coloring books is a sign which predicts the social publishing and social reading will be a major trend in the future."
Related:
Coloring books for adults become the new black