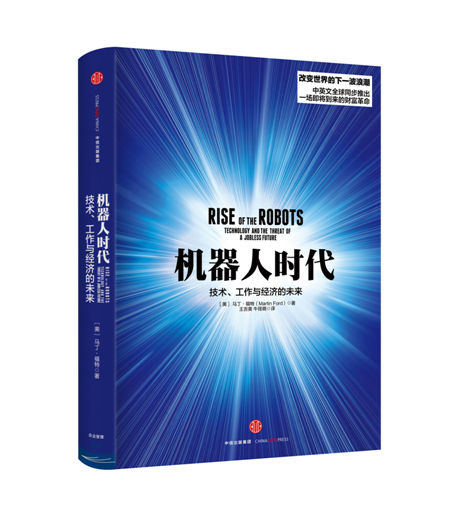 The Chinese edition of Martin Ford's new book is now available. Photo provided to China Daily
Author's bleak warning suggests a world where many of us are idle. Yang Yang reports.
If you think you are safe from the invading army of robots just because you are highly skilled, and that it is unskilled workers whom these mechanical soldiers will kill, you had better put your thinking cap and helmet back on.
As technology advances rapidly, robots are replacing more people in various jobs, not only low-skilled ones such as putting in screws or cleaning floors, but higher-skilled ones such as driving cars, says Martin Ford in his book Rise of the Robots: Technology and the Threat of Jobless Future, a Chinese translation of which was published last month.
In fact, some day robots may be so smart that most of us are out of work, Ford says. Having no income, humans will not be able to survive in a market economy, where robots will produce goods in huge quantities but that will have few buyers.
Education and hard work will be no guarantee of finding employment, and the social and economic consequences will be far-reaching, he says.
Some would argue that in the previous two industrial revolutions, people also worried about losing jobs as machines became more capable, he says, but in fact more jobs were created.
"But this time things are different. Robots are replacing human laborers to do not only muscle work but also brain work."
Ford says machines now take cognitive tests and make decisions. They not only solve problems but can also seamlessly and flawlessly learn lessons based on data and experience.
"Ask yourself a question: Could another smart person, if he or she has a detailed record of what you've done with your job, study the record and learn to do your job?
"If you look at everybody in the economy, a huge number of jobs are in that category. Someone can learn to do your job by knowing what you've done in the past."