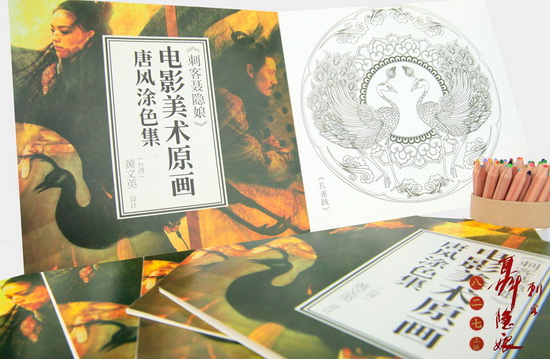 Coloring album The Assassin Nie Yinniang features Tang Dynasty paintings from the film. [Photo/Xinhua]
Chinese-style coloring book The Assassin Nie Yinniang is catching up.
As soon as the manuscript paintings of the film The Assassin Nie Yinniang was released as a promotion for the film's release on Aug 27, people are amazed by the beauty of the paintings and are crying for its coloring version.
The film producers then published the coloring albums of the script paintings and its first batch of 100,000 was sold out quickly.
The painting album is the script of the film's art director Huang Wenying, who has got inspiration from ancient famous paintings from Tang Dynasty like Court Ladies Preparing Newly-Woven Silk and Portrait of Lady of Guo Going Sightseeing in Spring by Zhang Xuan.
An expert says that the coloring album becoming a hit is expected, as the film's portraying of Tang Dynasty coincident with Chinese people's view of beauty and it recalls people's affection to Oriental beauty.