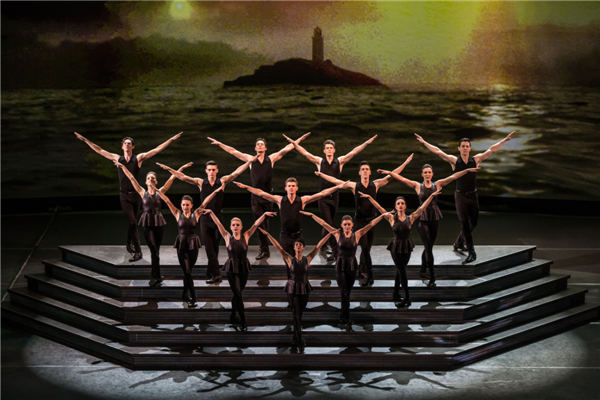 Irish dancers will bring Heartbeat of Home to Chinese audiences after the internationally successful Riverdance. Photo provided to China Daily
At the heart of the dance show Heartbeat of Home are, naturally, dancers, carried along by all manner of music, including Latin and Afro-Cuban. That much is obvious to anyone seeing the show, which is now touring China, but hiding in the wings is the story of the huge challenges that producers faced.
The director, John McColgan, says that in bringing to life the show, the offspring of the spectacularly successful Riverdance, it took more than three years, during which audition videos-all 2 million of them-flooded in from show hopefuls from around the world. Out of that looking-through-a-haystack effort emerged 10 golden needles, including the male and female lead dancers Bobby Hodges and Ciara Sexton. With them are about 30 others, including a 10-piece band.
The Golden Globe-nominated composer Brian Byrne wrote the music that threads the show together.
"The show is a revolution for me, for our cast-the multicultural dancers and singers," McColgan says in Beijing, where the show will be staged in the Great Hall of the People from Sept 10 to 13 after being performed in nine other Chinese cities. The revolution McColgan talks of comes thanks to a global beat laid on top of the traditional and contemporary Irish dancing that was integral to its progenitor Riverdance.
In the first act of Heartbeat of Home, homage is paid to the first generation of the Irish diaspora as they begin to build their new lives in various corners of the planet, and the second celebrates the present, in which cultures and dance forms have merged.
"We want not only to reflect the changing face of modern Ireland but to embrace the story of immigration and how we have traveled to new worlds where we communicate to each other through music and dance," McColgan was quoted as saying when Heartbeat of Home was first staged outside Ireland.
When the show is performed in Beijing next month it will be something of a homecoming, for it was in Beijing that the first performance outside Ireland took place, in November 2013. The show then went on to various venues in North America.