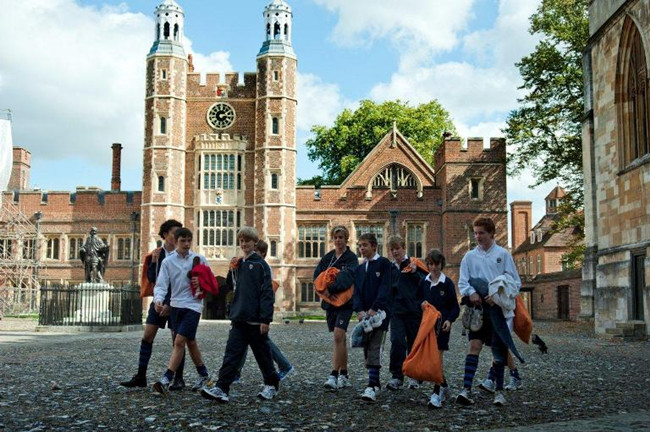 A file photo of a British school.
What happens when five Chinese teachers take over a British classroom full of teenagers? In the BBC documentary series, Are Our Kids Tough Enough? Chinese School, the Chinese teachers significantly "acclimatized" with the British kids, while the students couldn't adapt to the high intensity of teaching.
The experimental program was designed to test how 50 students ages 13 and 14 at the Bohunt School in Hampshire would cope with a completely Chinese teaching method. With long school days and tough discipline, it's normally considered to be "strict" to Westerners. The pupils were tested after the program against pupils who had remained with the normal staff and curriculum, to see which teaching method was most effective. The result will be published in the documentary series that will debut tonight.
According to Chinese media, it took the BBC staffs six months to select qualified Chinese teachers. They had to be English, mathematics, science or social science teachers with more than five years teaching experience in China. They also had to be able to teach totally in English.
Differences between Chinese and British education system
Though language was not a problem for the Chinese teachers, they weren't accustomed to the the difference between Chinese and British students. Li Aiyun from the Nanjing Foreign Language School told British media that when she handed out homework sheets, she expected the students to concentrate on their homework.
"But when I walked in the classroom some students were chatting, some students were eating, somebody was even putting make-up on her face. I had to control myself, or I would be crazy. About half of them tried their best to follow me. And the other half ? Who knows what they were doing?" she said.
Yang Jun, a science teacher from Xi'an, agreed with Li's sentiment. She was also confused by a teenage girl who left the classroom in tears after reading reports that singer Zayn Malik had quit the boy band One Direction.
"In China we don't need classroom management skills because everyone is disciplined by nature, by families, by society. I found it difficult to understand such emotional behavior over a pop band," she said.
Yang also challenged an individualized approach to pupil learning. "You have different syllabuses to suit different students' ability. We don't. We have one syllabus, one standard; you survive or you die. It's up to you," she added.
While Rosie Lunskey, 15, told BBC journalists that she found it difficult to get used to the Chinese teachers.
"Acting like robots was the right way to go. I'm used to speaking my mind in class, being bold, giving ideas, often working in groups to advance my skills and improve my knowledge. But a lot of the time in the experiment, the only thing I felt I was learning was how to copy notes really fast and listen to the teacher lecture us," she complained.