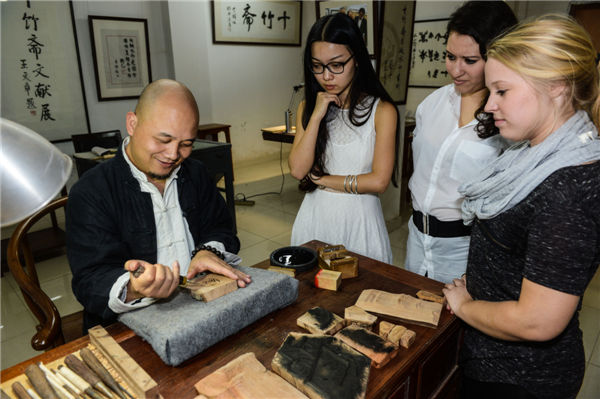 Printmaker Wei Lizhong demonstrates the making of woodblocks to visitors at his museum in Hangzhou, Zhejiang province. Provided to China Daily
Wei Lizhong isn't just an inheritor of China's intangible cultural heritage, he's also an activist.
The craftsman has spent 20 years creating woodcuts in the Shizhuzhai printing tradition, which the Ministry of Culture inscribed as a national ICH last year.
But he now spends more time promoting than practicing the folk art.
Wei believes he must.
"You need to promote what you're protecting," the 47-year-old printmaker says.
"ICH is endangered by apathy. So, I shouldn't spend all my time in a small room, focusing on folk techniques."
He often halts conversations to take phone calls to arrange his exhibition at the United Nations' Office in Geneva in October. He will display woodblocks he created to produce print replicas of the sixth-century-BC Chinese classic, Tao Te Ching.
"Everyone knows printing is among ancient China's four great inventions," he says. "But the world deserves to understand its lineage."
This mission compelled Wei, who's director of Shizhuzhai Art Museum in Zhejiang province's capital, Hangzhou, to spend last week meeting cultural heavyweights in Beijing.
A Chinese saying goes: "Only that which represents local culture can be globally accepted."
Wei modifies this: "Only globally acceptable models can preserve that which represents local culture."
Shizhuzhai, based in Jiangsu province's capital, Nanjing, ranked among China's most prominent publishing houses, serving late-Ming Dynasty (1368-1644) nobles.