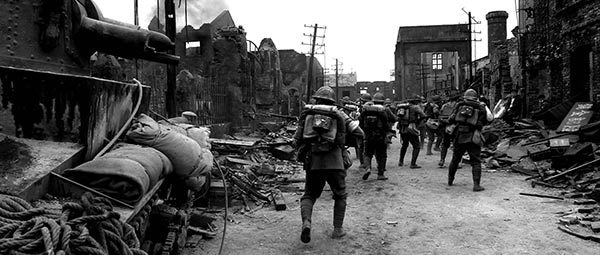 A still shot from the film "City of Life and Death". [Photo/Agencies]
In fact, the movie was shown twice, four years ago, in a cinema in Tokyo, where some 1,000 tickets were sold out.
"More than 40 police officers and several police cars were there in case right-wing extremists made trouble," he recalled.
But the film proved a success with viewers of all generations. A student surnamed Takemura told him that her grandfather was a soldier in Nanjing. Before he passed away, the old man told Takemura that war turned men into beasts. "Some scenes in the movie were familiar, just as he had told me," she said.
A Ms Yamaguchi told Lu that Japanese people should reflect on the past, and maintain good relationships with neighboring countries. Even Suzuki Kunio, senior advisor to Issuikai, a right-ring association that denies Japanese war crimes, watched the film and talked with Lu.
"He compared the movie to a textbook, and said Japanese people should watch it," Lu said.
The director himself has made many trips to Japan and has friends there, but there are many people unaware of history. A man once told him that the number of victims in Nanjing couldn't be as many as 300,000.
"I told him that the focus of the film was the fact, rather than the number. I also told him that questions could exist, but couldn't be raised by the perpetrators, just as German historians would not question the number of Jewish victims of World War II."
Lu believes that there are not enough exchanges between Chinese and Japanese people.
"We should understand each other better," Lu said. Launch of the film by niconico.jp is a good step along the way.
Related:
China's single-day box office hits record high of 400 mln yuan