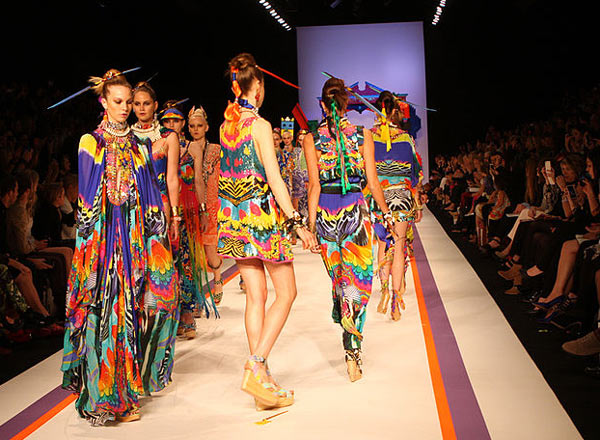 Young fashion designers' works draw public attention during the Hong Kong Fashion Week. [Photo/CNTV]
The 22nd Hong Kong Fashion Week opened on Monday. This season, the spotlight is on young designing talents, as past winners and finalists from the Hong Kong Young Fashion Designers' Contest showcase their latest collection.
Models donned pale pastel-colored outfits with hand-drawn pictures and patterns.
Some walked down the runway with intricate silver headpieces reminiscent of space helmets.
Designer team duo, Walter Kong and Jessica Lau, say they generally draw inspiration from famous fairy tales or stories they make up. For their Spring/Summer 2015 collection, it's a mix of both.
"The collection is basically about The Nutcracker and all our prints are hand-drawn, using pencil and watercolor. Every season, we have a different fairy tale story. For this one, it's about the Nutcracker. We have a slight twist. It's like a mysterious world, the swan being in a space ship, and carrying the Nutcracker to a candy world, trying to find its true love," Lau said.
Other designers were inspired by traditional Chinese culture.
Up-and-coming talent, Chloe Sung, said the brushstrokes of Chinese calligraphy were the inspiration behind her collection. Influences from her culture are visible throughout her designs.
"I think for me personally, I'm very proud of the Chinese or the Eastern traditional arts. So when I design, I usually add some Asian elements and apply them to Western silhouettes and designs," Sung said.
Hong Kong Fashion Week, held twice a year, runs from Monday to Thursday.