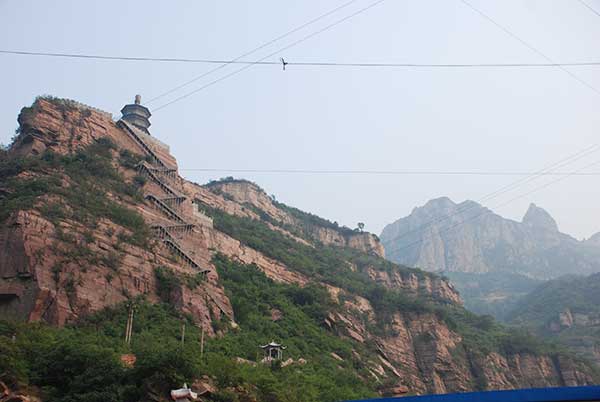 [Photo by Akhil Parashar/For chinadaily.com.cn]
I will never forget the moments I spent on Wangmang Mountain. It was a dreamland, an extraordinary place to view mountains and forests of pine, shrouded in misty clouds.
Mountaineering is a culture deeply steeped in ethics and ideals. It symbolizes how man and nature are intertwined.
It was incredible to visit the Wangmangling scenic area, located in Lingchuan county, Shanxi province. In fact, my memory bank is filled with images of the time I spent there: of closeness to nature, beautiful and unique views, good ecological environment, cool weather. The effects of the change in altitude can be felt there.
The cool somberness of nature signal that the visitor is entering divine territory.
The beauty of Wangmang is picture-perfect, a fusion of high mountain valleys, lakes and many streams. It is unique for its scenery — seas of cloud, sunrise, marvelous peaks, waves of pines. And there is a breathtaking road along a cliff's edge.
It is a pity, as it's said, that so many people know about Huangshan mountain, Guilin and Zhangjiajie, but not Wangmang Mountain. If you don't know about Wangmang, it means you have yet to visit one of China's perfect places. In the Wangmang Mountain Scenic Area, serenity lies in the sunshine, light, water, greenery, mountains, mist and cloud. It is the coziest place in China I've ever been.
Our group, mostly foreigners, traveled to the high altitudes of Wangmang Mountain by minibus. The infrastructure facilities are perfectly built, and nearby villages and areas are also well developed. I was astonished to see such development there.