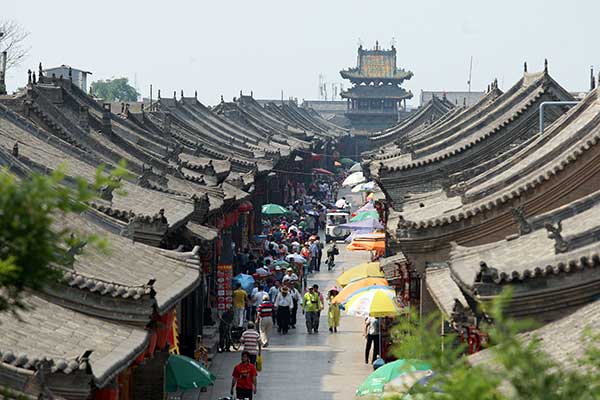 The Old Town of Pingyao.[Photo by Wang Zhuangfei/China Daily]
Mountains, rivers, waterfalls, ancient history and wonderful food are what Shanxi province in China can boast of, and I was lucky to become a part of this fairytale for five days, having been granted the opportunity to participate in the China Daily program "Shanxi in the Eyes of Foreigners".
The wonderful thing is that nowadays, in the era of commercial buildings and soaring skyscrapers, the architectural heritage of Shanxi province is still intact. During the five days of our exciting trip, we managed to visit the Old Town of Pingyao to hide from the bewildering bustle of the modern cities in the place that seems to be frozen in time, wandered around the Jinci Temple in Taiyuan, climbed the Taihang mountains, drove through the Xiyagou Grand Canyon's cliff road below Wangmang Ridge and, for dessert, watched the magnificent historical performance as Qing Emperor Kangxi arrived at in the Royal Residence of the Prime Minister.
Every day started early and played out with abundant events. But for me, a mountain lover, the trip to Wangmang Ridge in the Taihang mountain range on the fourth day, was the most unforgettable.
Wangmang is a place to immerse one's self in history, and its name speaks for itself. Because of the unusual geology, you can make out shapes in the peaks and ridges, and the "Turtle Mountain" — so named by ancient inhabitants — became a mute witness of the battle of Emperor Wang Mang and Liu Xiu.
To commemorate a governor of the Han Dynasty (BC221-207) the mountains took the name Wangmang. Geographically they are located at the southeastern part of Lingchuan county.
Centuries later, Liu Xiu is not left without attention. The beautiful Liu Xiu canyon that we visited on our trip was named in his honor. Wang chased him to the canyon rim, and Liu, fearing capture, jumped off the cliff and into history. Today, it is impossible to visit this majestic spot and not feel the spirit of ancient personages.
You can sense that in the Wangmang mountains every stone screams history. Nowadays, the cliffs stand tall and proud, witness to great historical events.