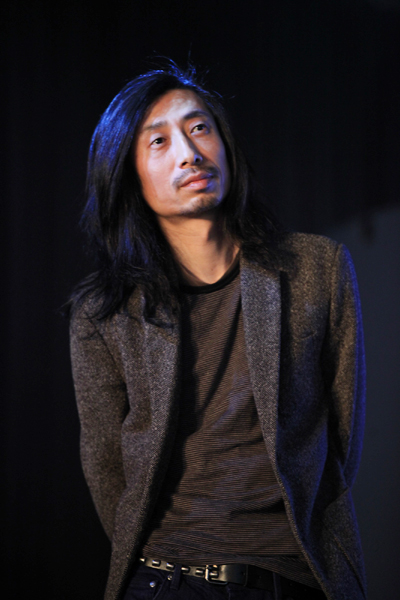 Chinese musician Xie Tianxiao attends a press conference in Beijing on April 9. Photo provided to China Daily
Chinese rock singer-songwriter Xie Tianxiao has announced his upcoming national tour in 2015 after signing a contract with Tree Music, a Beijing-based indie music production company, in Beijing.
According to Jiang Shu, the founder and CEO of Tree Music, his friendship with Xie started more than a decade ago when Xie borrowed a guitar from him around 2004. Xie has used the guitar to record his second album, X.T.X, in which he used traditional Chinese instruments, the guqin, an ancient Chinese instrument belonging to the family of zither.
"For years, he has become an iconic rock star in China, especially for his original rock music. He is also one of the few rock musicians in China whose concerts sell out quickly," says Jiang, referring to Xie's third album, in which he used rock tunes and guzheng to interpret Jamaican reggae music. "I knew that many record companies have been eyeing Xie but thanks to my old guitar, I won the contract with him."
"Performing at live shows is always an exciting experience for me, though I have been doing it for nearly 20 years. I never get tired of it," says Xie.
Known for his powerful live performances, the 43-year-old Xie broke into the Chinese rock music scene in 1990 after he began composing his own songs and moved to Beijing from his hometown in Shandong province. His first album, Cold Blooded Animal, in 2000, enabled him to perform hundreds of gigs in China, Europe, Japan and the United States.
Besides preparing for the national tour, which starts in June from Shenzhen and will return to Beijing at the end of the year, Xie says that he is planning for a new album.
"I have experimented with many different styles in my music. I want to go back to my early impression of rock with the new album, something raw and authentic," says Xie.
Related:
Percussionist brings nature's power to life onstage