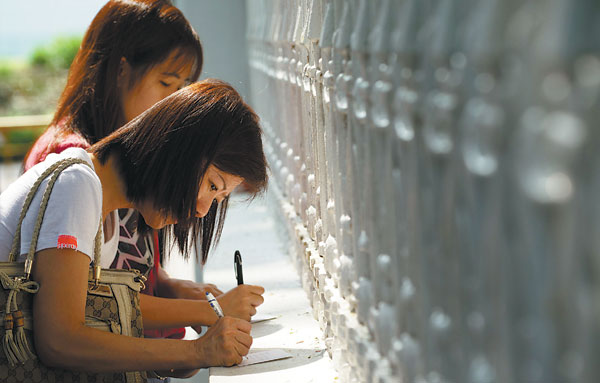 Singaporeans write condolence messages at the entrance to the Istana presidential palace following the death of former prime minister Lee Kuan Yew in Singapore on March 23, 2015. [Photo/Agencies]
Lee Hui Min, who was born in Singapore in the 1970s, recounts a story from one of her English textbooks-Father Knows Best, in which a father stops his son from going out to sea with his friends. The son is understandably angry with his father. But as it turns out, the father's order saves the son's life, as the ship sinks because of bad weather.
"Isn't our leader Lee Kuan Yew just like the father in the story?" the author writes in her book.
"He is capable and knows best, so we should listen to him. This was the guiding principle that we were instilled with in our childhood."
The freelance writer has expressed some dissatisfaction and doubt about many of Lee's policies in her book. As the author grew older, she started to think critically of the government's policies. In the first half of the book, she writes separate essays that discuss a wide range of issues that have troubled her, such as the mandatory use of Mandarin that resulted in local dialects dying out and breaking the links between the older and younger generations; the "ruthless" education system that over-emphasizes test scores and stifles the creativity of students; and the side effects of an elitist government.
"There are no lengthy theories or academic statistics in my book," says Lee Hui Min. "I grew up during those years, and I just want to share my personal experiences and express the feelings in my heart."