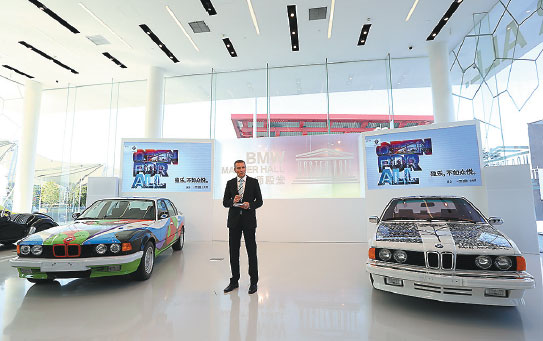 Peter van Binsbergen, senior vice president of sales and marketing at BMW Brilliance Automotive Ltd, at the BMW Master Hall in Shanghai.
Over 3,000 Chinese audiences had the chance to enjoy high-quality art for free as BMW brought a program called Open for All to the country.
Part of the famed BMW Master Hall at the JZ Festival in Shanghai in mid October, the first Open for All show featured 20-time Grammy award winner Pat Metheny, the legendary jazz musician famed for his innovation and technical accomplishment.
The BMW Master Hall has offered performances by renowned artists as part of the festival since 2011.
This year, it brought the idea of Open for All to the program for the first time, offering Chinese audiences the chance to enjoy the charm of a jazz master for free.
Free art, free joy
"The general public usually believes that high art is literally high up there, with little or no access to it," said Peter van Binsbergen, senior vice-president of sales and marketing at BMW Brilliance.
"We hope that through the innovative Open for All project, people can have equal opportunities to experience the world's top art. Like the experience BMW wants to offer through its products, it is always an experience of joy."
The auto group started to offer free performances with its Opera for All program in 1997.
Together with the Bavarian State Opera, the carmaker brought open-air performances to the public for free. When the weather was fine, the audience numbered as high as 30,000 people and helped change the landscape of public culture in Bavaria.
Binsbergen said people usually have to dress up for an opera and sit in a hall with worries about when to applause or cheer, but "the 'Opera for All' program brought high art to the most public and common space of a city".
"It frees the art and gives it back to the public."
Alice Mei, vice president of marketing at BMWChina, noted that BMW has also sponsored the London Symphony Orchestra to give free open-air shows since 2012.
"In Trafalgar Square, people gathered for a feast of classical music. It is really a unique and beautiful scene," said Mei.
BMW has launched the BMW Master Hall program in China since 2012.