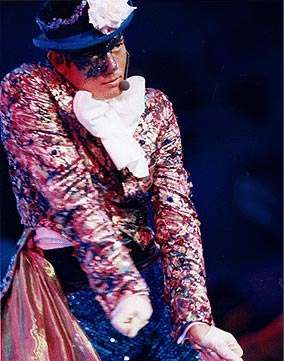 Singer and actor Aaron Kwok performs during his concert. [Photo/Agencies]
Hong Kong artist and performer Aaron Kwok is currently in London for his first UK concert.
At a recent press concert for the show, Kwok said he loves everything British and was happy to be there. Talking about his show, which debuts tonight in the city, the singer said most of it is un-choreographed, and he uses his own style.
"In my concert I have a solo part. This is my own style. I don't like to have anyone arrange anything for me with the dancers. It's my part, my own part. I have a lot of my own ideas on how to to dance with my music. So the performance will be very brand new".
As a talented solo artist, his concerts have always sold-out both in China and abroad.
Kwok was recently nominated as Judge for the Taipei Golden Horse Film Festival.
The 'Aaron Kwok de Showy Masquerade World Tour 2014' will be held at The SSE Arena, Wembley in London.
His ten-show tour in China will begin Aril next year.