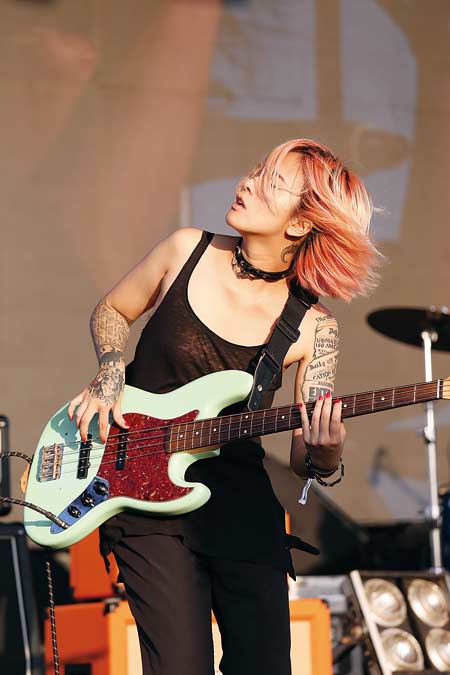 Awu performs with Banana Monkey at Shanghai MIDI Festival, and reflects on the city's staid music scene. Photos provided to Shanghai Star
She's got pink hair, quick fingers and a rebel spirit. Matt Hodges meets Awu, Shanghai's coolest rock'n'roll bassist.
Banana Monkey's Awu looks like a piece of postmodern art with a yakuza twist and bubblegum-colored hair.
One of the best female bass guitarists in China, she has just launched a new band, Smoking Area, which spells good news for punk fans.
She can play fast, going triple-finger instead of needing a pick to rip through tricky Cannibal Corpse songs. Last year, she was approached by Bi Xia about joining another new (all-female) band after a nationwide talent search.
Bi Xia is a winning contestant on The Voice of China, Zhejiang TV's answer to American Idol.
Having made her name with one of Shanghai's top indie groups, Awu (the Buddhist-inspired stage name of Li Yuhua) is on a mission to shake up Shanghai's staid music scene.
"The problem with the bands here is that they just want to be popular," she says. "At least in Beijing they have power and energy, but in Shanghai everyone is messed up by the lifestyle. Everyone worries about getting a house, car and wife."
She turns up at café-cum-bookstore 1984 in the former French Concession with pink and yellow locks cascading over a neck collar, and tattoos of V for Vendetta and Sponge Bob Square Pants on her arms. Instead of a Hermes bag, her satchel resembles a guitar with the stem lopped off (she plays on a 1962-style Fender).