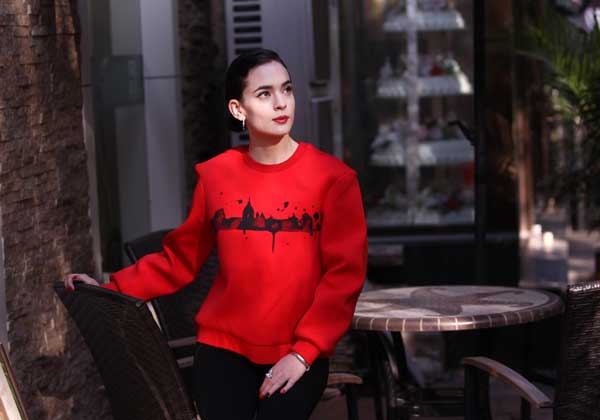 The American enjoys singing Chinese folk songs in their original tunes and styles. [Photo by Zou Hong/China Daily]
She was a grumpy kid stuck in an alien city when her parents first moved to China. Then she started singing Chinese folk songs, and the world changed for Annie Kathyn Lowdermilk, she tells Chen Nan.
The first time Annie Kathryn Lowdermilk performed at a Chinese TV singing competition, she almost passed out on the stage.
"I knew I was singing the wrong song, dressed in a wrong way and I even forgot to smile," she says of her 2009 effort.
The competition, called Hong Ge Hui, has all the singers performing Chinese patriotic songs. It was a lonely three-minute show and Lowdermilk, who was barely 20 years old then, vividly remembers her severe stage fright.
She could have left the stage behind, gone back to the United States and gotten a regular day job. However, Lowdermilk, who had lived in China as a child, was determined to become a singer of Chinese songs.
Four years later, Lowdermilk stepped onto the stage of Starlight Boulevard, a popular CCTV variety show. After competitions on TV intermittently for a year, she was recently awarded the Best Foreign Singer of the Year at a ceremony of the show's 10th anniversary.
Sitting in a cafe near Communication University of China, where she studied animation, the 24-year-old performer known as Tang Bohu in China, says that she wants people to see her like "any Chinese singer".