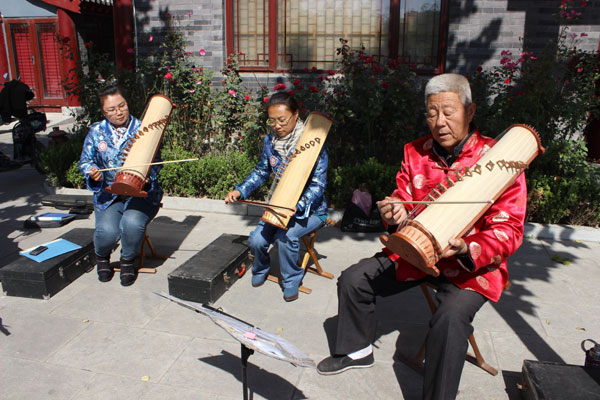 Zhao Xingtang and his students play cuoqin during a performance in Qingzhou.[Photo by Wang Kaihao/China Daily]
A city offers daily glimpses of an ancient lifestyle that is rarely visible in modern China. Wang Kaihao reports from Qingzhou, Shandong province.
While on an electric-car ride through the alleys of ancient Qingzhou city in eastern China's Shandong province, I became a time-traveler - enjoying folk music, dance shows and traditional handicraft. Nearly 400,000 tourists from different parts of the country visited the attraction during the National Day week earlier this month. Qingzhou draws tourists because it still offers daily glimpses of an ancient lifestyle that most other modern cities in China no longer do. Mobile barber shops, dough sculptures portraying the Monkey King and old street-style selling of goods, are some of the typically traditional aspects of life on display here.
Zhao Lianju, 64, has learned bajiaogu (drum) singing of the ethnic Manchu people. The singing, which dates back to the Qing Dynasty (1644-1911), was taught to him by his grandfather when he was a child. Now, he wears a traditional long gown and uses a snakeskin tabor while performing.
"As long as visitors from afar still cherish the art form, I am satisfied," Zhao says, adding that some of the local youth do not enjoy the singing.
He is listed as a province-level inheritor of intangible cultural heritage.
His daughter, however, has taken to it, he says, although the same can't be said of many other families with legacies in bajiaogu singing.
Historical records suggest that Qingzhou was among China's nine regions that were ruled by Yu the Great (around 21st century BC), and has played an important role in ancient China due to its crucial strategic position.
But despite its rich traditions, Qingzhou was long seen as "a famous ancient city without (modern) vitality", according to Li Jiangtao, head of the city's cultural center. Which is why, he says, in the past decade field research on intangible cultural heritage was carried out by the local government.
"We knew that there were many traditions that were hidden in the grassroots, but we needed to find them," he says. "If we didn't hurry, everything would be lost."