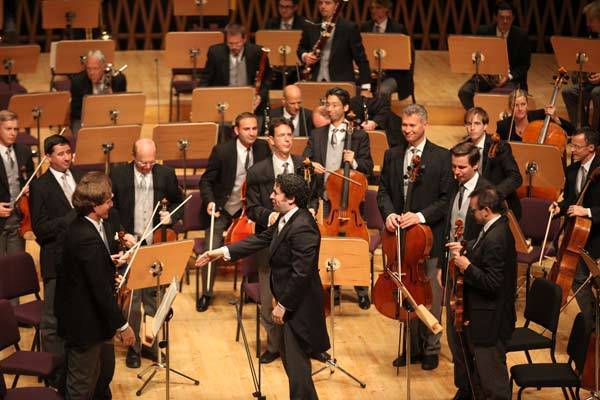 Guest conductor Gustavo Dudamel shakes hands with soloists of the Vienna Philharmonic Orchestra at the new Shanghai Symphony Music Hall last month. Photos provided to China Daily
The city's new concert hall has opened to cheers for its acoustics and architecture. Guest conductor Gustavo Dudamel is a big fan, Zhang Kun reports in Shanghai.
A concert hall is like an instrument for an orchestra, Gustavo Dudamel said after leading the debut performance at the new music hall of the Shanghai Symphony last month with the Vienna Philharmonic Orchestra.
It was the first foreign orchestra to perform at the new music hall, which opened on Sept 6.
The 33 year old conductor from Venezuela compares the new hall to a Stradivarius violin. Having such a wonderful concert hall of its own, the orchestra will be able to "develop a sound, a personality, a soul", he says.
Japanese acoustician Yasuhisa Toyota, who designed the Shanghai Symphony Music Hall jointly with acclaimed architect Arata Isozaki, also compared the hall to a music instrument, at an earlier soft opening.
"We were not building a house, but making a musical instrument," he says. Toyota promised audiences that "every seat is a golden seat" in the main concert hall for 1,200 people and chamber hall for 400 others. In order to block out the vibrations and noises from Metro Line 10, which lies within 6 meters, Toyota and Isozaki built the concert hall on 300 base isolators. Known as China's first "floating building", the concert hall actually sits on giant steel springs — the first time the technology has been used in the country.
Isozaki designed two thirds of the hall's construction below ground level, so that the building is no more than 18 meters at its highest, fitting naturally amid the surrounding buildings and residential compounds dating to the early 20th century French Concession period.