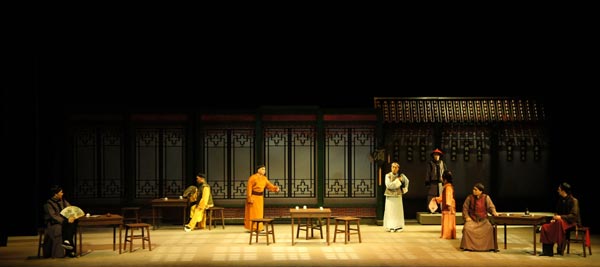 A scene from Peking Opera master Li Baochun's latest work, The Confidants, which will start its tour of the Chinese mainland later this month. Photo provided to China Daily
Faced with a declining audience for Peking Opera, an heir to the theater leads a movement to give it a more contemporary feel, Chen Nan reports.
Peking Opera, like many other ancient art forms in China, is struggling to survive in the face of a fading fan base. It's a fact that even Li Baochun, the son of the late Peking Opera master Li Shaochun (1911-75), who himself is a star of the theater, admits.
However, instead of lamenting about the bad situation, Li, 64, has been pushing the boundaries of the traditional theater and reaching out to audiences, especially the younger generation, with solid performances and his modern sensibilities.
Taipei Li-yuan Peking Opera Theater, which Li founded in 1998 after he moved to the island, will stage Li's latest work, The Confidants, in Beijing on Oct 25.
It will then launch a tour of the Chinese mainland and appear at the China Peking Opera Festival in Tianjin in November.
Adapted from the theater drama by renowned scriptwriter Guo Qihong with the same title, The Confidants revolves around good friends, Gu Zhenguan and Wu Zhaoqian, from the Qing Dynasty (1644-1911).
Gu, an intellectual working for the government, tries hard to get back his friend Wu, who committed a crime and was banished to Ningguta, the ancient land of exile in northeastern China. However, when Gu is finally reunited with Wu 20 years later, he is disappointed to find that Wu is not the same person any more and the two seem to be estranged.