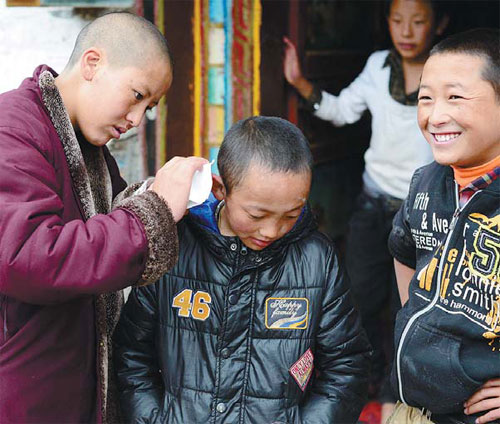 Drolma Choitso, a nun in Sichuan province, carefully puts medicine on a bite on the ear of Tsering Lodroi. The photos were taken on Aug 30 in Daocheng county. Zhou Guoqiang / China Daily
A young Tibetan nun teaches local children Mandarin so that they can have a better future, either in their hometown or in some other part of the country.
At an ordinary house near the Pangphu Temple in Daocheng county of Ganzi Tibetan autonomous prefecture in Sichuan province, Southwest China, young Tibetan Buddhist nun Drolma Choitso is devoted to letting the young generation of local Tibetan people master Mandarin, the main language used throughout China. Over the past two years, the 20-year-old nun from the temple has used her own home, 3,940 meters above sea level, as a temporary classroom. About a dozen teenagers are learning with her at present, some of whom are still at school and a few are trying to seek a career. Apart from teaching, Drolma Choitso loves to take care of them as well. She believes that there will better lives for the children who speak Mandarin.