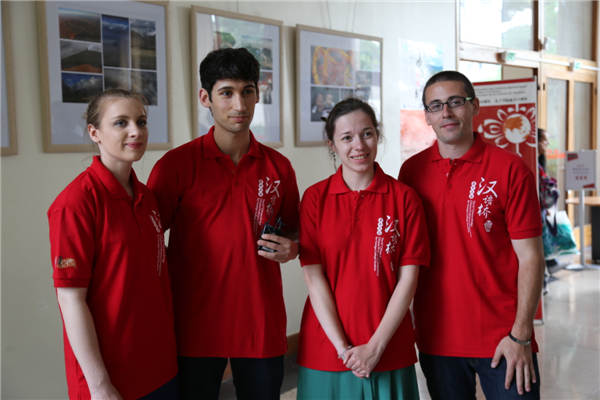 Some winners of the Chinese Bridge language competition in France. Provided to China Daily
She comes across as shy and reserved at first - but when Victoria Zanello, 23, was on stage taking part in a Chinese proficiency competition in Montpellier, southern France, her confidence with the language and deep affection for Chinese literature was there for all to see.
The student, originally from the northern city of Lille, was first in the preliminary round of Chinese Bridge in France, one of the largest and best-known international competitions of Chinese proficiency for foreign college students.
She also became one of the three finalists representing France who will compete with contestants from more than 70 countries in the final to be held in China this summer.
"I didn't expect it, but I am really grateful for it (winning the top prize)," says Zanello.
Zanello, who is studying Chinese literature for a master's degree at Paul Valery University Montpellier III, says she developed an interest in the language when she was at primary school. Her favorite modern Chinese writer is Shen Congwen, and her undergraduate thesis was about his life and work.
"There was no particular reason (for choosing Chinese) and no one in my family speaks the language," Zanello says. "I just fell in love with it naturally at a young age. The more I learn Chinese, the more appreciation I have for this ancient and beautiful language."