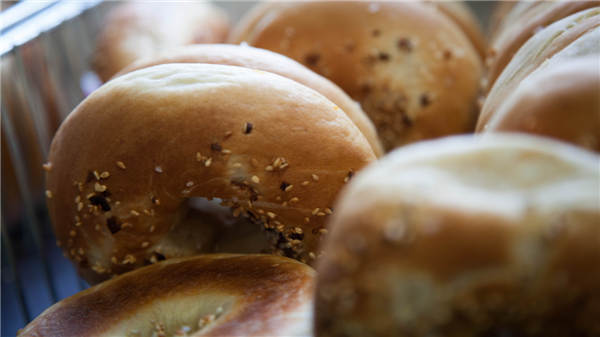 Tavalin,a young American,finds his niche with a taste of home in Beijing. Photos by Cao Huan / China Daily
Blue baker's apron; big, black-framed glasses; flour in his hair - in fact, flour pretty much everywhere - and a smile as big as Vermont, the US state where he grew up: this is the image of Julian Tavalin that recently appeared on a Beijing magazine cover.
The photo might give the sense that Tavalin is a passionate foodie, reveling in the moment as he pounds wholesome whole wheat dough toward its destiny as fresh-baked bagels.
"Are you kidding?" he says. "I'd been looking for a good bagel in Beijing - for me to eat!"
Tavalin Bagels was the answer to that need. It has now been going long enough to have momentum, but in the early days, bagels consumed him, rather than the other way around.
"Conceptualizing the work and doing it is completely different," he says. "You don't sleep. You don't do much else.
"I remember when we opened - sitting there, every day, looking across the street at the cigarette store and the DVD shop. I was bored out of my mind. Nobody came in. Nobody knew we were even there!" he says, laughing.
Then one day, an attractive young woman he'd seen before smoking outside the shop came into the street and turned not into the cigarette store but into the bagel shop.
"Do you have butter?" she asked.