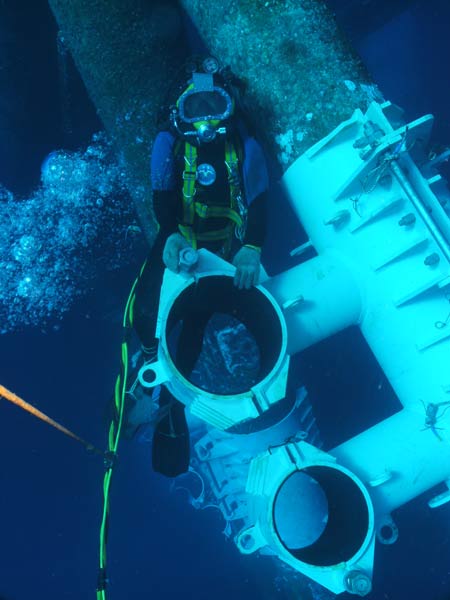 Chu Jinyong's work is to install and maintain offshore gas and oil facilities tens of meters underwater. Photos Provided to China Daily
It is one of the most dangerous professions in the world and Chu Jinyong has been doing it for nine years.
Working as a diver with China National Offshore Oil Corporation since 2005, Chu has dived to depths of tens of meters underwater, in the pitch black, to install and maintain offshore gas and oil facilities over nearly 800 hours. His team of 41 divers has laid pipelines across 3,290 kilometers of seabed.
It is highly skilled and technical work, and if anything goes wrong, it can mean the difference between life and death. The 36-year-old diver has narrowly escaped being killed twice.
One winter when Chu was working underwater in the freezing Bohai Sea his lifeline of air froze, leaving him with just his oxygen tank.
"The oxygen tank is also called the 'back-home tank' only to be used in a severe emergency," Chu says. The tank can give divers 20 minutes' of air supply at the most, depending on the depth.
The professional diver remained perfectly calm, using the air supply from the tank, and returned to the surface as soon as possible.
"If you panic, your breath gets faster which means more air to inhale, and that could make things worse," the diver says.