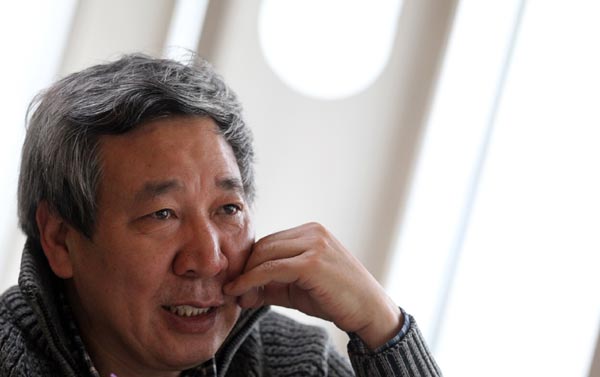 Chinese writer Yan Lianke. Zhang Wei / China Daily
In addition to Liu, Chinese writers Yan Lianke, Jia Pingwa and Yu Hua were also highly praised by Sinologists. "Liu's works are full of humor with Chinese logic," says Kim Tae-sung, researcher at the Institute of Sino-Korean Culture. "But Yan Lianke's way of expressing himself is more dramatic, which makes his works stand out."
Yan has written more than 20 novels and short stories, and has many international honors under his belt, including this year's Franz Kafka Prize. He was also a finalist for the 2013 Man Booker prize. Yan attended a school of the People's Liberation Army when he was young, and his early writing focused on military life. He later turned to rural topics, and won attention for his imaginative style.
Yan's latest novel, The Chronicles of Zhalie, questions the loss of moral order in the fictional village of Zhalie, which has grown from a town of about 100 households to a super metropolis with a population of 30 million.
"Liu is the top candidate in my mind," says Sabina Knight, professor of Chinese and Comparative Literature at Smith College. "But I also like Jia Pingwa very much."
Born in Shaanxi province, many of Jia Pingwa's writings are related to the local culture. His most famous novel Shaanxi Opera depicts the painful and tragic social transformation of a rural village over a 20-year period, and reflects the changes in contemporary rural Northwest China.
"Jia's words are beautiful," says Knight, adding that some of the writer's most well-written passages are difficult to translate.
Gao Xin, a prominent literary critic in China, says both Chinese people and writers attach great importance to the Nobel Prize in literature. "That is because the prize is prestigious. More importantly, it is also because Chinese people are eager to get Chinese literature into the limelight, to show the rest of the world what Chinese writers are capable of," Gao says.
Fan Xing, professor at Wuhan University's College of Chinese Language and Literature, believes that more than 10 Chinese writers have a shot at the Nobel Prize, but adds that there are many great writers who have never won it. "Lu Xun and Leo Tolstoy haven't won a Nobel Prize, but it didn't affect their status in the world literature," Fan says.