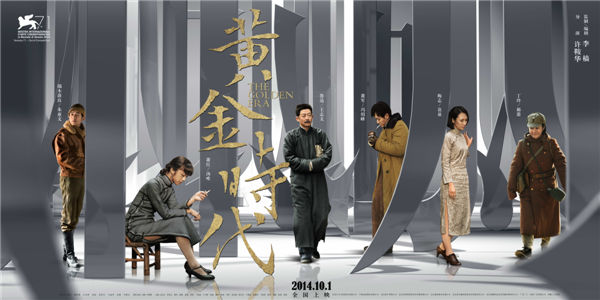 The Golden Era, featuring (from left to right) Zhu Yawen, Tang Wei, Wang Zhiwen, Feng Shaofeng, Yuan Quan and Hao Lei, is among the first film projects by Youku Tudou's film company Heyi Film. [Photo/China Photo Press]
An increasing number of China's Internet giants are setting foot in the film industry. During the Shanghai International Film Festival, Tencent Video announced its expansion into the industry by investing in six films including Zhong Kui: Snow Girl and the Dark Crystal, a highly anticipated and star-studded 3-D fantasy.
By purchasing a 60-percent stake in China Vision Media Group, Alibaba Group has also established a movie company, reportedly with Jet Li as an independent non-executive director.
Baidu has also set up a Los Angeles studio. With a reported investment of $40 million, the company's first production will be the 3-D animation Kong, which was adapted from the Chinese fantasy classic Journey to the West.
The latest Internet company to joint the trend is Youku Tudou, which announced the establishment of its film company Heyi Film on Aug 28. Heyi is to work with China's major film companies by jointly investing in at least eight feature films a year, which will be released in cinemas nationwide. Its first five projects include The Golden Era and a 3-D adaptation of the war epic The Taking of the Tiger Mountain. The films will premiere on Oct 1 and Dec 24.
Heyi will invest in nine "Internet movies" each year, which will be released online. The company will also continue to provide financial support for new filmmakers and bring online hits to the big screen. For example, Old Boys: The Way of the Dragon, the sequel to a popular 2009 short film on Youku, secured a nationwide cinema release in July.