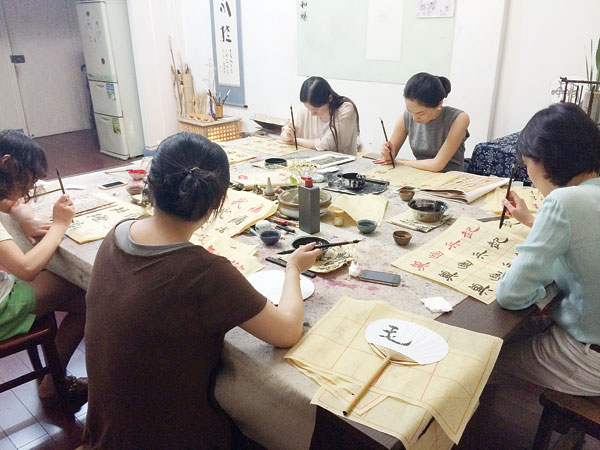 Alexander Xue's students enter a whole new cultural world. Photo provided to Shanghai Star
It was a respected art form in ancient times, but today Chinese calligraphy is disappearing from modern life. One scholar is determined to preserve the practice, and has created a haven for artists. Yu Ran reports.
Calligraphy, a Chinese cultural treasure that dates back to ancient times, must be preserved in the modern age. This is the belief that spurred Alexander Xue to open a calligraphy studio. It has also motivated him to continue to run the venture for the past three years, despite meager financial rewards.
Located in an old villa in a nongtang, a Shanghai alleyway in the city's downtown area, Xue's studio, Hui Xian Jing She, has attracted students who want to preserve the traditions of ancient China by practicing calligraphy and other arts and crafts.
Xue returned to China in 2011 after spending more than 10 years living in Japan. He returned with the belief that it is his destiny to help preserve the culture of ancient China.
"I thought I would live and work in Japan for the rest of my life but now I know that I have to work to preserve our ancient culture after studying traditional Chinese literature and calligraphy for over 10 years," says Xue.
Xue's studio, Hui Xian Jing She, means "a quiet shed gathering the men of wisdom from everywhere". His aim is to find like-minded people who are interested in understanding the hidden cultural meaning behind calligraphy.