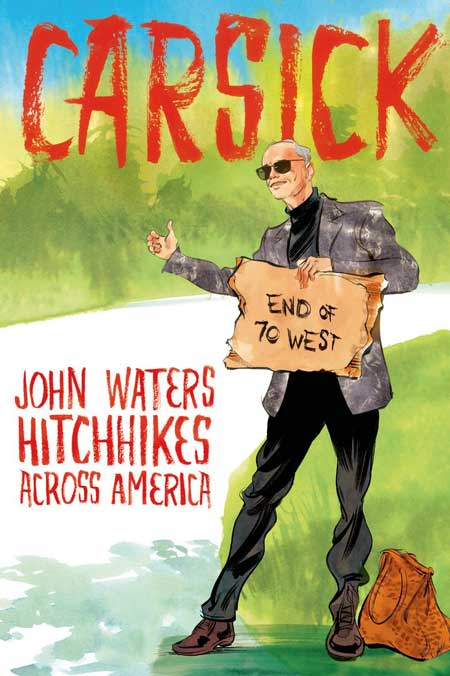 Carsick: John Waters Hitchhikes Across America Publisher: Farrar, Straus and Giroux Year Published: 2014 Pages: 336 Price: $26 [Photo/China Daily]
John Waters was safely ensconced in his New York apartment, which is unexpectedly tasteful-Oriental rugs, carefully arranged books-for the filmmaker known as the "Pope of Trash", thanks to movies like Hairspray and Pink Flamingos that traffic in camp, gore and, ahem, bodily functions.
He had survived his eight-day hitchhiking trip across America two years ago-the subject of his new book, Carsick-and he didn't seem worse for the wear. Sitting in his living room, he looked refreshed in a black and gray suit jacket, a pressed white-collared shirt and his signature pencil mustache. He swore, though, that by the end he was so weather-beaten he looked "like a Walker Evans character".
Although he'd hitchhiked along America's coasts decades ago, he never did a cross-country trip. A man now in his 60s could have respectably counted that as a regret, not a dare, but that's not Waters' style.
Plus, he said: "My life is so scheduled. I don't have a lot of spontaneous moments. I'm in control of everything. So to give that up ... ."
He lingered on the thought, before adding, "and this fame thing".
The fame thing, though, did not give up on him. Stories of him hitchhiking from his home in Baltimore to San Francisco went viral.
His celebrity may have persuaded a driver or two to go that extra mile. But, he insisted, "it didn't help when I was standing out there".