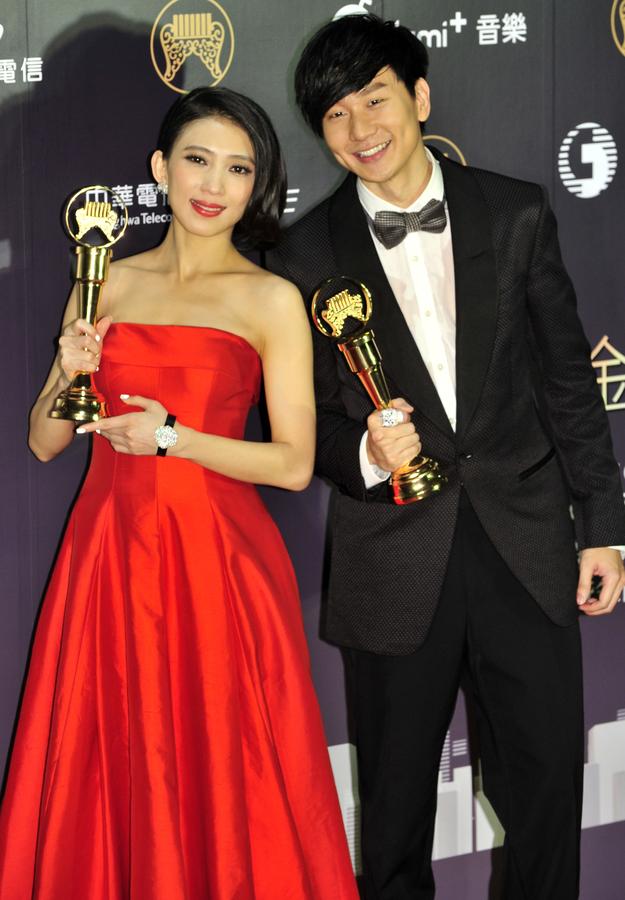 Malaysian singer Penny Tai(l) and Singapore singer JJ Lin (r) hold their awards for Best female Mandarin singer and Best male Mandarin singer, at the 25th Golden Melody Awards in Taipei on June 28, 2014. The Golden Melody Awards are one of the Chinese-language pop music world's biggest annual events. [Photo/Xinhua]
Singaporean singer-songwriter JJ Lin and Malaysia's Penny Tai have been crowned best Mandarin singers at the Golden Melody Awards, Taiwan's equivalent of the Grammys.
Lin won the top male singing honour for his album "Stories Untold." Tai took the top female singing award for her album "Unexpected." She also won the best album producer award for another album at the award ceremony in Taipei on Saturday night.
It was the fourth time that Lin made it to the finals but the first time for him to win the top award. "Yes," Lin shouted as he clutched the trophy, smiling broadly. "This is how it feels to win the best male singer award."
Dressed in a red evening gown, Tai thanked the judges by bowing deeply to them. "It is completely unexpected that I should be here," Tai said, who choked up when delivering her speech.
The star-studded, glittering ceremony also named the aboriginal musician Chang Chen-yue's "I am Ayal Komod" the best Mandarin album of the year.
Chinese mainland singer Li Ronghao took home the best new performer award for his album "Model."
A total of 123 pieces of work competed in 24 categories at the 25th Golden Melody Awards.