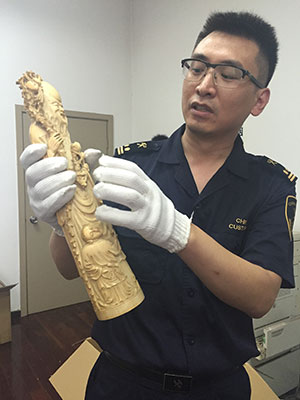 A customs officer shows one of the ivory products seized in Beijing in July. Cai Yanhong / For China Daily
An international ring linked to Japan that traded in illegal raw ivory and related products was busted by Shijiazhuang Customs, according to a report in Legal Daily on Monday. More than 100 kilograms of ivory was confiscated, the report said.
Two suspects have been detained. They ordered ivory products through an e-commerce site based in Japan, according to the authorities, and the site would send the products through international mail. After receiving the parcels, the suspects allegedly sold the ivory products to other buyers via the internet.
Beijing Customs ran across key clues by chance. Legal Daily quoted Li Kunpeng, a Beijing Customs official, as saying they noticed three boxes sent from Japan to Langfang, Hebei province, on July 22. However, the delivery fee was much greater than warranted for the items said to be inside, which was unusual.
An X-ray examination revealed that the items inside were carved ivory products. Later, another 12 boxes of ivory products were sent from the same address in Japan to the same address in Langfang.
Shijiazhuang Customs sent out a team after it was informed by Beijing Customs. The two suspects were arrested when they tried to pick up the parcels on July 27.