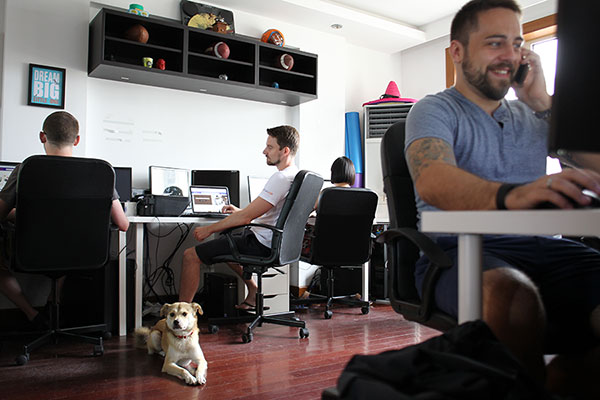 A dog waits in the office where its owner works in Shanghai. Gao Erqiang / China Daily
Companies in Shanghai find that benefits far outweigh the minor inconveniences
Pet lovers may envy employees at some internet-related companies and cultural industries in Shanghai that allow pets in the office to make the workplace more relaxed and enjoyable.
Cats and dogs brought by workers - and even strays - are allowed to roam freely in some areas, mostly around offices with a garden or open space.
Two cats have become important members of M&C Saatchi, an advertising agency located in a downtown villa. Founder Tony Lau, from Hong Kong, said the improved working atmosphere and team spirit far outweigh the minor disturbance of the pets.
"Cats have something in common with advertising agencies, which are usually open and creative. Moreover, cats are independent and don't require our time or energy," Lau said.
Account manager Zhao Mengxian said that while he doesn't have strong feelings for pets, he doesn't mind them strolling around.
"Playing with them has become a way to deal with stress when working overtime," the 32-year-old said.
Jay Thornhill, co-founder of Baopals.com, an e-commerce platform for expats, said a dog at the office helps people feel less stressed and a bit more playful at work.
"It's hard to feel angry when you have a cute furry face looking at you. Moreover, the dog helps reinforce our business culture - that we want the office to feel like a home and our team to feel like a family," said Thornhill, a 30-year-old Australian-American.
Whenever people take a break or go for lunch somewhere that welcomes dogs, they bring him along, Thornhill said. After work they take him home every day, so he's never alone.
Zhao Congchong, CEO of Shanghai CCE Communication Group, which also allows pets in the office, said the policy avoids pets being left alone at home during the daytime.
"All the dogs and cats in our office are brought by staff from home, and undergo medical checkups regularly," the 33-year-old Zhao said.
Shi Linlin, administrative manager at M&C Saatchi, said someone in her office volunteers to take charge of the cats, and when they get sick, the employees donate spontaneously for veterinary fees.
The three companies said they've heard of a couple of others in Shanghai that have pets in the office, but no large firms.
"In the US, Google and Amazon are known for allowing dogs in the office. And I think it's no surprise that those two are also considered two of the happiest places to work," said Thornhill, who grew up with pets.
However, some experienced pet keepers said bringing pets to the workplace can come with various problems.
"Pets may bring bugs and mites, so the office must be vacuumed thoroughly, regularly. And they can easily scratch furniture and destroy paper documents," said Zhang Jin, who keeps five cats at home. "Moreover, buses and subways ban pets, so it's difficult to commute with them."
Wang Yueyang contributed to this story.