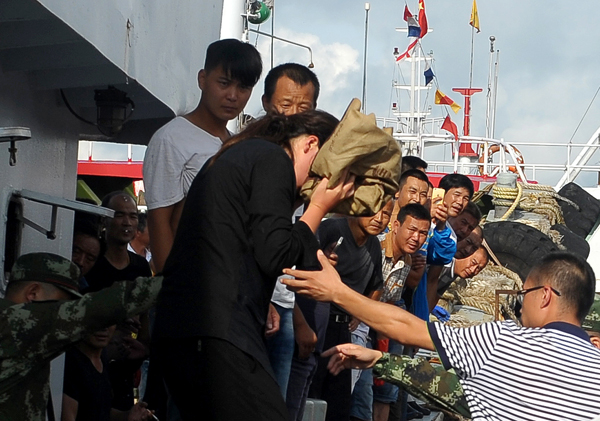 The rescued woman, whose name was not released, steps ashore from a fishing vessel in Zhoushan, Zhejiang province, on Saturday morning.[Photo by Wu Linhong/For China Daily]
A 32-year-old Shanghai woman who fell off a cruise ship that was returning to China from Japan was miraculously saved after floating in the sea for more than 38 hours. She even fell asleep for awhile, according to her father.
The woman, whose name was not disclosed, was traveling with her parents aboard the ship on Wednesday evening when her companions noticed she was missing. She had gone for a walk on the deck at around 8:30 pm but didn't return. Her parents and more than 100 volunteers searched the boat but failed to find her.
The parents gave up hope. A police officer on the ship told the father that there was no chance of survival if his daughter had fallen from the deck, which is 20 meters above the water.
So, when the father received a phone call on Friday informing him that his daughter had been saved, he thought the call must be from someone who wanted to defraud him of money, according to a report in thepaper.cn.
"Only after I heard my daughter's voice did I believe she was still alive. It's a miracle," the man said.
A fisheries official surnamed Wang in Zhoushan, Zhejiang province, who wanted only his surname used, said that he saw the missing woman.
"She was in a stable condition when I saw her, with only minor injuries on her arms," he said.
Wang's department was called by a fishing boat and informed that the woman had been found in a coastal area over which Zhoushan has jurisdiction. Wang was asked to check out the situation once the boat arrived in port at Zhoushan at 7:40 am on Saturday.
The woman said she fell off the cruise ship while leaning over a 1.4-meter rail and gazing into the sea, Wang told China Daily.
He said the woman was rescued at about noon on Friday and was too weak to eat until dinnertime.
Wang said she went home with her parents at around 5 pmon Saturday.
The woman learned to swim when she was in kindergarten and is physically strong and a good swimmer, the father was quoted as saying by Shanghai-based Jiefang Daily. He said his daughter reported falling asleep for awhile as she drifted in the water.