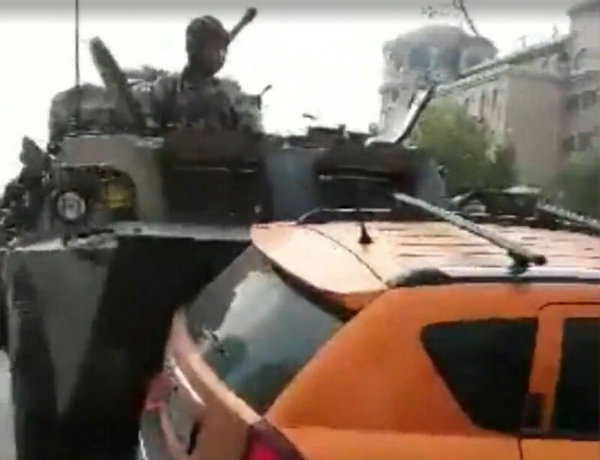 Screenshot from a video posted online shows a PLA vehicle colliding with a Jeep. CHINA DAILY
The Chinese military on Thursday gave details of an accident involving a motorcade of armored vehicles, dismissing some internet users' accusations against the People's Liberation Army.
According to China National Defense, a newspaper affiliated with PLA Daily, the accident took place on July 6 in front of a residential compound in an unidentified city. A column of PLA armored vehicles on the way to an emergency response exercise encountered an impatient driver who tried to drive her Jeep between the military vehicles.
The PLA vehicle's operator braked up but it still hit the Jeep, the newspaper said. No one was injured.
A traffic police officer determined that the woman was responsible. Then everyone left the scene and the motorcade continued.
However, after a video shot by passers-by was published on the internet, some netizens accused the motorcade of traveling in densely populated areas and troubling commuters.
In response, China National Defense quoted the police officer handling the accident as explaining that the Law on Road Traffic Safety stipulates that government and military vehicles have precedence on the road in case of emergencies and the armored vehicles were to take part in an emergency response drill, so it met the stipulation.
The chief of the armored vehicle's crew told the newspaper that the Jeep driver was lucky because the motorcade was traveling slowly, otherwise she could have been badly injured.
A military affairs observer in Shanghai told China Daily that the armored vehicle is the PLA's ZSL-92 wheeled armored personnel carrier, which weighs around 13 metric tons.
"It is really unwise for any civilian driver to try to cut in a motorcade of military vehicles, let alone the heavy-duty armored carriers. Even if you don't respect traffic rules, you should understand that military vehicles are built to be very sturdy to withstand impact in combat," he said. "Crushing a civilian car is like a piece of cake to them."