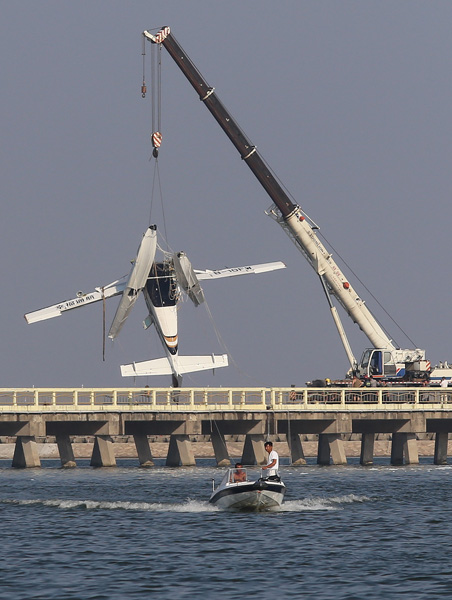 A damaged seaplane is lifted out of the water by a crane after the aircraft crashed into a bridge in Shanghai's Jinshan district on Wednesday. [Photo by Xie Kuangshi / For China Daily]
At least five people were killed and another five injured in a seaplane crash on Wednesday in Shanghai.
The nine-seat seaplane, operated by Joy General Aviation, crashed into a bridge along the Shanghai-Hangzhou Expressway at 12:15 pm, 10 minutes after it took off from Jinshan City Beach for its trial flight.
Those aboard included the pilot and co-pilot, district government officials as well as reporters who were there to observe.
The pilot, 63, has an accumulated flight time of over 30,000 hours.
The injured were sent to a hospital in Jinshan, where one of the seriously injured was undergoing an operation.
"There was a sudden left turn, almost at 90 degrees. Then the co-pilot yelled 'a bridge!' Then it crashed into the bridge. It was like a nightmare," said Wu Liangliang, a Shanghai Television Station cameraman, who survived the crash.
The wreckage was removed from the water by early afternoon. The municipal government said a full investigation has been launched.
Joy General Aviation, the largest seaplane operator in China, is a subsidiary of Aviation Industry Corp of China.
The craft is manufactured by US-based Textron Aviation, which sells brands such as Beechcraft, Cessna and Hawker.
Flying at an altitude of 600 meters and with a speed of 260 kilometers per hour, light seaplanes are increasingly used in some Chinese cities for tourism, as they allow passengers to get a clear view of the scenery below.
A seaplane can shorten the journey from Jinshan to Zhoushan from hours to about 30 to 45 minutes. Jinshan district plans to build itself into a hub for seaplanes in East China.
China has relaxed its ban on the use of low-altitude airspace since 2013, leaving ample room for lucrative business opportunities, related to aviation.