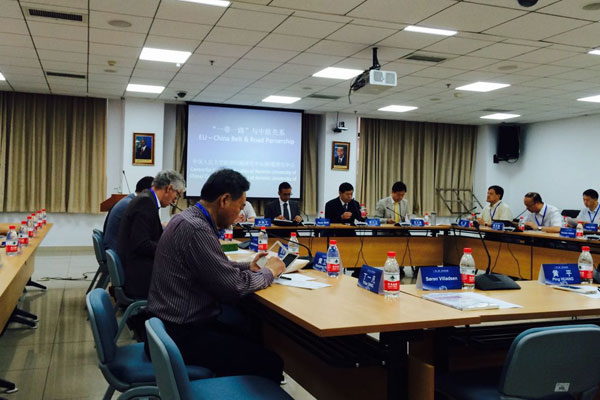 Scholars and experts at the event, titled the Belt & Road Initiative and EU-China Partnership, held in the Renmin University of China in Beijing, July 16, 2016. [Photo by Yao Yao/chinadaily.com.cn]
Strengthened communication and common interests contribute to fostering a sound partnership between China and the European Union, according to scholars and experts attending an event dubbed the Belt & Road Initiative and EU-China Partnership, in Beijing on Saturday.
"About the areas in relation to common interests, of course we will have many differences. Go and negotiate, we should not eye the differences, but work in a respectable manner and try to address them," said Asad Beg, head of the European Union Delagation to China and Mongolia's Political, Press and Information section, at the event held in the Renmin University of China.
Asad felt optimistic about the prosperous aspect of the China-EU Partnership, saying "we have seen for the first time Chinese foreign direct investment has been doubled, as around 20 billion euros into European Union and 9 billion euros in other way from Europe to China."
Asad Beg went on to say: "we hope we can increase and improve the quantity and quality of foreign direct investment that could take place in bilateral trades."
In regards to the connectivity platform, and citing the caravans traveling between Europe and China, Asad said: "I think the exchange should not only be in terms of goods, but also be in terms of ideas and of people. And I think for now we need to do is to move from high political statements and strategic vision, and to translate that into concrete projects."
"As EU and China are the cradles of some of the world's great civilizations, there should be more exchanges to enrich our conversation."
According to Asad Beg, "if we want to make it a strong and stable mutual relationship, we need to invest in the prosperity and well-being of each other."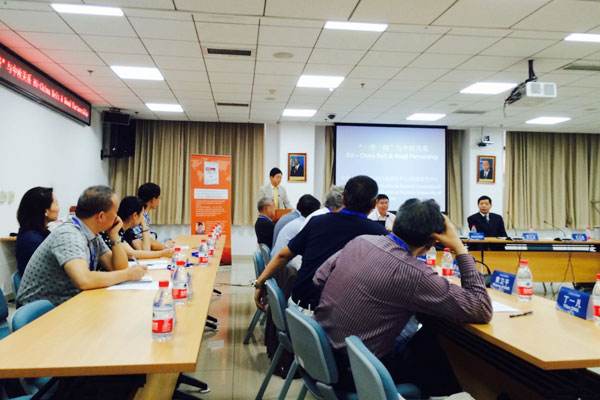 Professor Wang Yiwei from Renmin University of China gives a presentation at the event. [Photo by Yao Yao/chinadaily.com.cn]
Asad Beg's idea of pragmatic cooperation between the EU and China gets received support from scholars and experts attending the event.
"There are many common problems such as climate change and environment protection needing our joint efforts and it is not necessary to take too seriously some disputable problems between China and EU," said Professor Chen Zhimin from the Shanghai-based Fudan University. Chen highlighted pragmatism's part in the development of the EU during his presentation, citing the EU's principle that policy is driven by our interests.
"One Belt, One Road Initiative not only helps develop a Eurasian market, but also lets the two civilizations- Europe and China learn from each other again. Since the world nowadays faces many challenges and problems, we need a new mentality, new thinking and new civilization, that's why we gather here," said Wang Yiwei, director of the Renmin University of China's Centre for EU studies.
"EU focuses more on stability and resilience so that it cooperates with the one having joint interests," said Sven Biscop, from Egmont-Royal Institute of International Relations.
Other experts also outlined their proposals to strengthen the EU-China partnership.
Professor Heiduk from the Warsaw School of Economics highlighted the role of cities along the China-Europe train routes, since in his opinion, location brings trade. Professor Overbeek, from the VU University Amsterdam, said the Asian Infrastructure and Investment Bank and European Investment Bank could both provide a public fund to connect the Juncker Plan and One Belt, One Road Initiative.