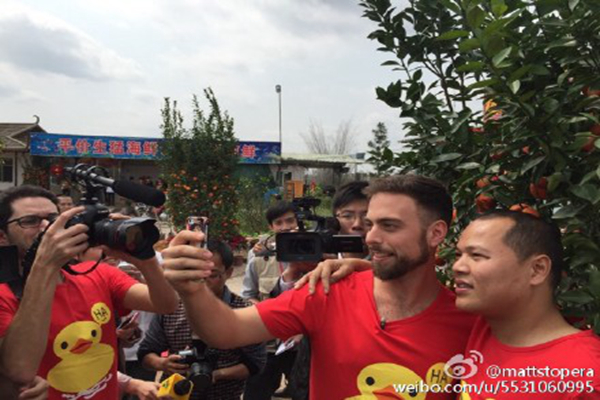 Brother Orange and Matt Stopera, the orginal owner of his iPhone, pose in front of a tangerine tree on Wednesday.[Photo/Weibo.com]
Many will remember last year's story of New York-based Buzzfeed reporter Matt Stopera and his unlikely friendship with "Brother Orange," a man in the Guangdong province city of Meizhou who ended up with Stopera's lost iPhone.
The two first came into contact when Stopera noticed about 20 new photos appear on his photo stream, including the now famous photo of Brother Orange, whose real name is Li Hongjun, standing in front of an orange tree. Interested netizens quickly identified Brother Orange after Stopera wrote a Buzzfeed article about the mysterious photos, which were still syncing to Stopera's iCloud account. Before long, Stopera had flown to China to meet Brother Orange and tour his hometown. That visit was soon reciprocated by Brother Orange, who traveled to the U.S. and even appeared on "The Ellen Degeneres Show" with Stopera.
Now the news has broken that the two men's story will be made into a movie. The film is to be a collaboration between Buzzfeed and Flagship Entertainment, which is a joint venture between Warner Bros. and China Media Capital. The film will be executive produced by none other than Ellen Degeneres and Stopera himself, along with Ilana Glazer of "Broad City" and producer Jeff Kleeman.
In response to a Hollywood Reporter article about the upcoming movie, Stopera took to Twitter on July 11 to write simply, "This is a cray [crazy] thing."
Related stories: Lost iPhone leads to special China-US friendship