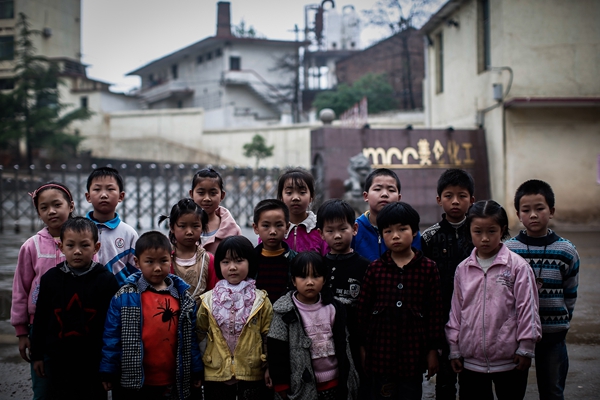 Children who have excessive bloodlead levels stand in front of Hengyang Meilun Chemical Pigment Co in Hengdong county, Hunan province, in April 2014.[YANG YI/CHINA DAILY]
Courts need more help to gauge compensation due to victims affected by environmental degradation, legal experts tell Cao Yin and Zheng Jinran.
Lawyer Dai Renhui won a major case when he represented 13 village children against the chemical pigment company accused of causing their excessive blood-lead levels. But he didn't feel like celebrating.
Despite a court in Hunan province finding in favor of his clients, just two of the children were actually awarded compensation, and the sums were far less than expected.
The families from Hengdong county had demanded just over 2 million yuan ($300,000) from Hengyang Meilun Chemical Pigment Co to cover their medical bills, but in the end the company was ordered to pay a total of 26,000 yuan.
"It wasn't even enough to cover the costs of bringing the lawsuit," Dai said.
After the initial judgment early last year, the families appealed to the municipal intermediate court but met with the same result. Some are now petitioning the provincial high court while others have given up.
"We have accepted materials relating to an appeal from one parent, but whether we retry it and when that would happen is still to be decided," said Li Yuxian, a spokesman for the high court.
Lawsuits brought by citizens against polluting companies have risen sharply in China, yet the Hunan case shows that courts lack guidelines on how to handle them and how to compensate those who win.
Dai, who works for the Center for Legal Assistance to Pollution Victims, said the children in Hengdong were all age 4 or 5 when they started to display symptoms of excessive blood-lead levels in 2014.
The families blamed emissions from Meilun Chemical for contaminating the soil and water supplies. The company's plant, which was just 30 meters from their village, was ordered to close in 2014.
Both courts heard that all 13 children had tested positive for excessive blood-lead levels. However, only two - identified as Yi and Huang - had readings of over 250 micrograms per liter, the threshold set by the national health authority to differentiate between high and severe. The judges ruled that only these two cases would receive compensation.