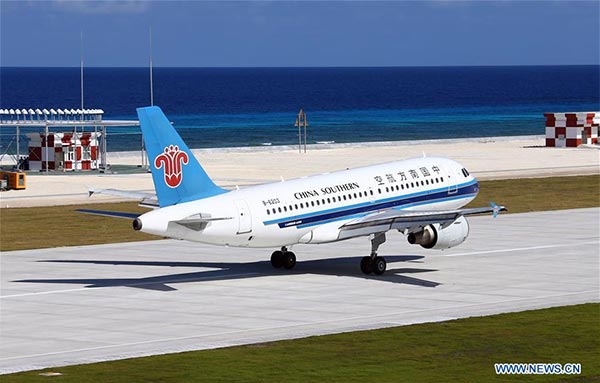 A civilian aircraft lands at the airfield on Yongshu Jiao in the Nansha Islands, Jan. 6, 2016. China successfully carried out test fights of two civilian aircraft on Wednesday on a newly-built airfield in the Nansha Islands of the South China Sea. [Photo/Xinhua]
Two civil airliners touched down for the first time on runways on Meiji Reef and Zhubi Reef in the South China Sea on Wednesday, showing the feasibility of the two new Nansha Islands flight destinations in China's southernmost territories.
The Nansha Islands now have three airports accessible to commercial airliners — in January, an airliner landed at Yongshu Reef — opening the possibility of travelers covering the 1,000-plus kilometers to the islands in two hours.
Previously, visitors would have to travel by ship for more than 30 hours from Hainan Island to Zhubi, a scenic reef in the southern part of the South China Sea, and then another nine hours heading southeast to Meiji Reef.
On Wednesday morning, the China Southern Airline and Hainan Airline jets took off from Meilan International Airport in Haikou on their respective approximately two-hour test flights to Meiji and Zhubi.
In Zhubi, airport personnel gathered to greet the crew on board and burst into applause.
Hu Xianzhong, the pilot of the Hainan Airline plane, is a veteran staff member awarded by his company in January for cultivating more than 80 captains and 283 co-pilots.
"Zhubi is one of the southernmost reefs of the country, and it is a heartfelt honor to conduct the test flight and land on this airport as a pilot and as a Chinese citizen," Hu said.
Both planes returned to Haikou in the afternoon. It remains unclear whether the flights to two reefs will become regular routes.
Prior to the civil flights, civil aviation authorities conducted flights to the two airports on Tuesday to verify and the airports' ability to ensure the safety of civil airliners.
Observers said that as the South China Sea is one of the busiest airspaces for international flights, the new airports could prove useful for emergency landings and eventual maritime search and rescue missions.
Wu Shicun, president of the National Institute for South China Sea Studies, said new civilian facilities on the islands show China's "great sense of duty and increasing ability to serve international public interest".
In addition to the airports, China has built lighthouses, hospitals and scientific research centers on the islands that serve the world, Wu said.
The Ministry of Transport confirmed on Sunday that China has completed the construction of four lighthouses on reefs in the Nansha Islands and is currently building a fifth one to aid navigation in the area.
In the South China Sea, through which about half of global trade passes by ship, China's islands are spread over four archipelagoes — the Dongsha, Xisha, Zhongsha and Nansha Islands.
Nansha, in the southern part of the sea, has the largest spread of islands.
Xinhua contributed to this story.