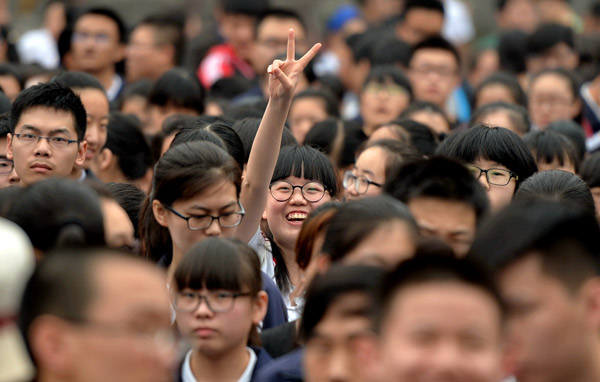 Students leave a gaokao venue in Xingtai, Hebei province, after their first exam on Tuesday. MU YU / XINHUA
The fall in the number of students taking the gaokao will force some colleges and universities to find novel recruitment methods if they want to enroll enough students, education experts have warned.
The annual national college entrance exam began on Tuesday, with 9.4 million students taking it nationwide, 20,000 fewer than last year.
At least 13 of China's 34 municipalities, provinces and regions saw a fall in the number of students registering for the exam this year.
In Beijing, Liaoning and Jiangsu provinces, the numbers have fallen to new lows, according to an annual survey on the gaokao and enrollment released by education portal eol.cn.
The gaokao is considered the most important exam in China, as only a small proportion of the students can be enrolled at top universities each year.
Chen Zhiwen, editor-in-chief of eol.cn, said the fall in numbers is not good news for some lesser-known colleges and universities.
"Fewer students taking the gaokao mean it will be more difficult for these colleges and universities to recruit enough students," Chen said.
He believes the fall is due to the shrinking population of college-age students and more Chinese students wanting to study overseas.