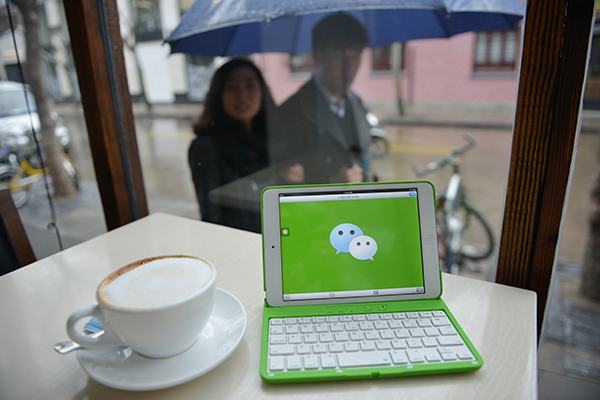 The logo of instant messaging app WeChat on a mobile device. [Photo/Agencies]
Mass communication in China has changed the lives of young and old alike
When premier Zhou Enlai died in January 1976, Dong Jiyuan took her nine-inch television set to an ivory-carving factory in Beijing where she worked and watched the funeral with dozens of workmates.
The TV, a luxury for most people in those days, was placed on a make-shift stage, and a wooden frame that held magnifying glass was put in front of it so those at the back could see.
"Many people cried, including me," Dong says. "We were just workers, but we really cared about state affairs. Information was limited and we had few other cares."
With the paucity of "information" available, it was that TV that provided Dong with the few morsels on offer.
Even at home, watching TV was a public event. Dong's father, a Chinese medicine specialist, was one of the few who could afford a TV, and when he first put it in the courtyard for others to watch, neighbors would gather around and marvel at this little box with its flickering black and white pictures.
"People were so hungry for information," Dong says. "Once the television was turned on, there was an immediate hush, just like in a classroom. It was the way we got news: officials talked; we listened."
These days, it seems, the public are doing a lot more talking and public officials a lot more listening.
"Inexorably the centralization of information has turned into a process of decentralization, and that change has profound ramifications for society," Fu Guoyong, a historian and columnist, wrote in an essay published on Tencent.com - one of the many points of decentralization he talks of - and China's most popular social network.
"All the information used to come from a single source, but now the trend is for a multitude of sources, no tiers and rapid dissemination as the cost of information flow falls."
As for TV, Dong says programs began to be interesting in 1983, the year the annual Spring Festival Gala was first screened on China Central Television.
"Finally we had some entertainment."