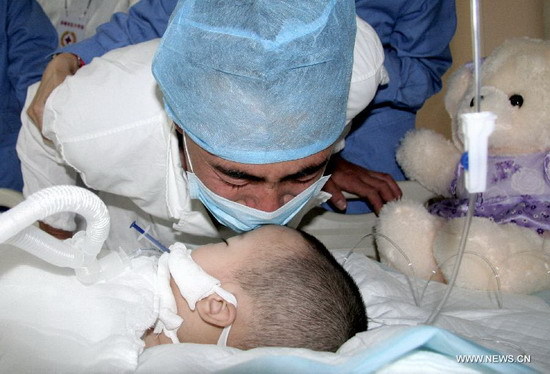 Feng Lei, gives her daughter Feng Junxi a final kiss at a hospital in Beijing, June 9, 2012. A couple from Chifeng in north China's Inner Mongolia Autonomous Region decided to donate their daughter Feng Junxi's body organs after her death.
BEIJING -- China's health, police and transportation authorities have jointly established a "green passage" to ensure fast and safe transfer of donated human organs.
The move is aimed at shortening transportation time and reducing damage or waste of human organs to help patient survival.
According to a Friday circular on the mechanism, police will help ensure ambulance right of way when health authorities receive donated human organs. Airlines should provide priority boarding services and allow planes carrying human organs to depart first.
Health authorities transporting human organs may buy tickets after boarding a train. The Red Cross will also provide help during the transportation process.
"The transportation of human organs is like a race between time and life," said the circular.
Many human organs, such as the liver, cannot be stored for longer than 12 hours or they will become unusable or dysfunctional following transplant, it said.
China has a serious lack of human organs, though the nation ranks third globally in terms of the number of organs donated. Some patients must wait for years for transplant surgery, and many don't survive long enough to receive a transplant.
In 2015, 2,766 people donated major organs after death, almost double the number in 2014.
Previously, executed prisoners were one of the major source of organs. On January 1, 2015, China banned the harvesting of organs from prisoners.