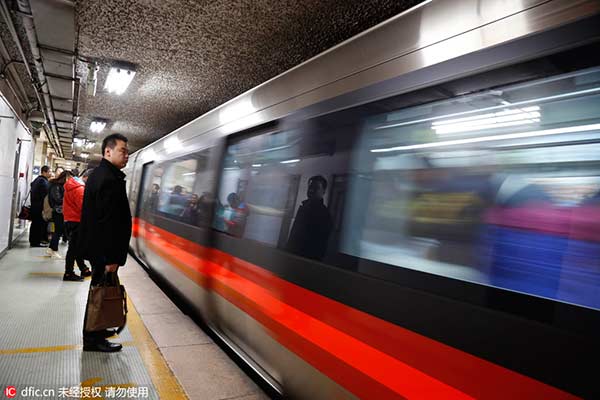 A man waits subway trains in Beijing on Nov 14, 2014. [Photo/IC]
Beijing has launched subway construction of Line 3 after six decades of planning, reported Beijing Morning Post on Tuesday.
The route will begin at Dongsishitiao on east Second Ring Road, head to outside of northeastern Fifth Ring Road and end at Caogezhuang north station.
The construction will be completed in 2020. To improve efficiency, Line 3 is already planned as automatic unmanned subway track.
Beijing currently has 17 subway lines, including five out of central Beijing.
The first blueprint was drawn up in 1957, but was repeatedly modified over the years and now it has been finally given the green light.
Wan Xuehong, vice-president of Beijing Urban Engineering Design and Research Institute Co, Ltd, who has participated in Beijing subway construction for decades, said Line 3 has been on the table since 1957.
"The blueprint was about building the future transportation network, But we had to focus on the most-needed ones based on people's requirements," said Wan.
Wan said Line 3 was not given serious consideration as recently as 2015.
But it doesn't mean that Line 3 has to start at square one. Many subway stations, including Dongsishitiao, have reserved the extra interchanging stations for future expansion.