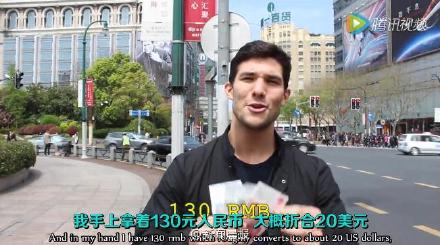 The screen shot of a video showing how Kevin Cook lives off $20 a day in Shanghai. 
How can one live off $20 (130 yuan) a day in Shanghai, one of the most expensive cities in China? Blogger Kevin Cook attempts to answer this question in a video that has recently gone viral on Chinese social networks.
What's amazing is that everything was covered on the limited budget. On the day he visited a bunch of landmarks in the city, tasted local food and spent the night.
In the video he offers a breakdown of all his costs for one whole day. He spent 46 yuan for three meals, which included tasting famous local food, Shengjianbao, or fried dumplings and Yangzhou fried rice; 6 yuan on transportation that took him to the Bund, the city's must-see riverfront and 70 yuan for a night's stay in a standard dormitory room.
His expenses totaled up to 123 yuan ($19), with 1 yuan spent on a doll-catching machine, but his playful attempt failed.
Kevin introduced himself as an adventurer in the blog, adding that he started travelling to Asia in 2013. He has been blogging and making videos about life abroad ever since.
China is his second stop after a brief stay in Thailand.
His new blog series about living on $20 a day aims at showing viewers what they can realistically expect to spend in a single day with $20 in places all over the world.