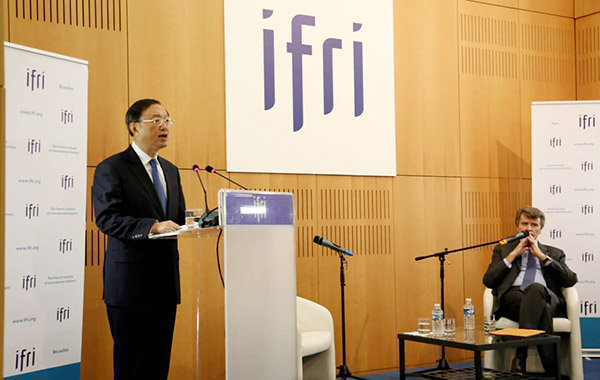 State Councilor Yang Jiechi delievers a speech at the French Institute of International Relations in Paris on April 14, 2016. [Photo by Tuo Yannan/China Daily]
Chinese State Councilor Yang Jiechi dismissed pessimism over China's economy by telling an audience in Paris that "China is becoming a major contributor to global consumption and investment."
"The Chinese economy will continue to inject positive energy to the global economic growth," Yang said in an address to the French Institute of International Relations in Paris on Thursday.
Yang noted that the Chinese economy still faces a downward pressure, and the transformation and upgrading are invariably accompanied by "growing pains."
"We will not evade those problems or deny their existence. Rather, we will rise to the challenges with every confidence," Yang said.
China's GDP grew by 6.9 percent last year, and according to the IMF, China will be contributing 30 percent to global economic growth up to 2020.
"For three years in a row, China leads the world in the number of outbound tourists as well as the amount of money they spend," Yang said.
He noted that last year, the value of wine China imported rose 34 percent year-on-year, reaching a record high of $2 billion, and "a significant amount of that was produced here in France".
Envisioning China's import and outbound investment in the next five years, Yang said "China will import goods worth over $10 trillion and make outbound investment of over $600 billion."
Zhang Yansheng, secretary-general of the National Development and Reform Commission's Academic Committee, said China's priority tasks for its foreign trade will undergo a shift in the next five years, as "greater emphasis will be placed on the expansion of imports" when the country seeks a better effect on exports.
"Also, when capital, talents, technologies and standards are being introduced from outside world, China will further prioritize its 'going global' strategy," Zhang said.
Later this year, China will host the G20 Summit in Eastern China's Hangzhou city in September.
"We hope this Summit will help improve global economic and financial governance. Is China a liability or an asset for a slowly recovering global economy? The answer is all too clear," State Councillor Yang said.
As China is deepening its reforms, Yang told the audience that in the coming five years, 50 million new jobs will be added, ensuring adequate employment despite a moderated growth rate.
"The supply-side structural reform that China is pushing forward will further unlock growth potential," Yang said.
Elaborating on China's opening up, Yang said the country will "open wider the services and financial sectors and increase market access in an orderly manner".
"We are committed to facilitating exchanges and cooperation between foreign companies, institutions and individuals with their Chinese counterparts," Yang said.