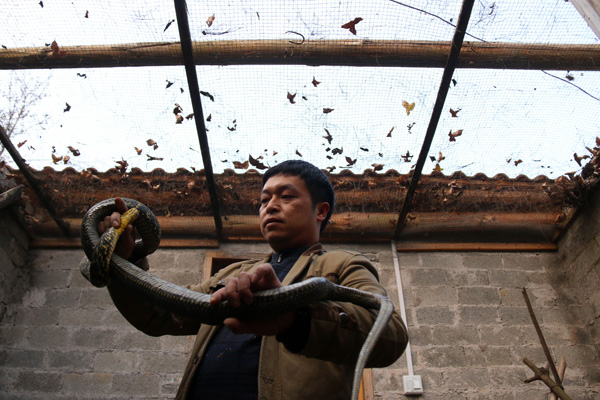 Luo Han grabs a kingsnake bred in his snake farm at Niujiaowan village, Liping county in Guizhou province. [Photo provided to China Daily]


Farmer pulled family out of poverty by selling serpents to restaurants
A farmer who swapped raising crops for breeding venomous cobras and other less-deadly snakes, lifting his family out of poverty in just a few years, is eager to share his skills with other villagers in Southwest China's Guizhou province.
In a peaceful courtyard in Liping county's Niujiaowan village, a neat row of bungalows is home to thousands of snakes, including the vibrantly patterned kingsnakes that use constriction to subdue and kill their prey.
"Taming snakes is way harder than raising regular animal species," said 40-year-old Luo Han, who owns the breeding houses.
Luo wears special gloves and uses other equipment to pull a snake out of its pit. He tightly presses on the snake's head to ensure it won't be able to attack anyone.
As experienced as Luo is today, he didn't start his career as a snake farmer.
Born and raised in the province's mountainous area, Luo's family was poor during his childhood, and he was forced to drop out of school as a teenager to find work in the coastal regions.
"I was once the owner of a restaurant and guitar factory in Guangdong province, but the financial crisis in 2008 took nearly everything from me," Luo said.
Seeking another business, he learned that snakes are quite popular as food in Guangdong province and the Guangxi Zhuang autonomous region. Hunting wild snakes is strictly prohibited in China, so the demand for farmed snakes is quite large.
To master the skills of snake handling and breeding, Luo spent nearly a year as an apprentice at various breeding bases across the country. In 2009, he returned to his hometown and opened his own breeding base.
"The biggest concern was a worry about snake bites and the emergency care needed should someone be bitten by a snake while taming it," Luo said.
In order to assuage any worries his fellow villagers might have, Luo built the breeding houses in an isolated area and added three fences to ensure safety.
"I always keep a first aid kit, as well as antivenoms, at my office just in case," Luo said, adding that mastering those medical skills is fundamental for every snake handler.
Still, it is impossible to avoid the inevitable. In 2011, as Luo's snake business started to show promising results, he was bitten.
"It felt worse than being stung by a bee and that is the first time I faced a life-or-death situation," Luo said.
Even now, he has kept the incident from his parents and children. Only his wife is aware of what happened and "she's been nagging at me ever since", Luo said.
"She's fine with me breeding snakes, since it's profitable, but I have to get rid of the deadly ones, such as the cobras."
It costs about 80 yuan ($12) to raise a snake that can be sold for more than 130 yuan in the current market, Luo said.
"Snakes are asleep most of time, so it takes less labor compared with traditional animal husbandry, such as pig breeding," he said.
Luo's company breeds more than 9,000 snakes a year, which brings in revenue of about 1 million yuan. He is looking to share his know-ledge and snake-farming skills with other villagers.
"I'd like to help more poor people, like I used to be, to join the breeding business," he said.
Zhao Kai contributed to this story.