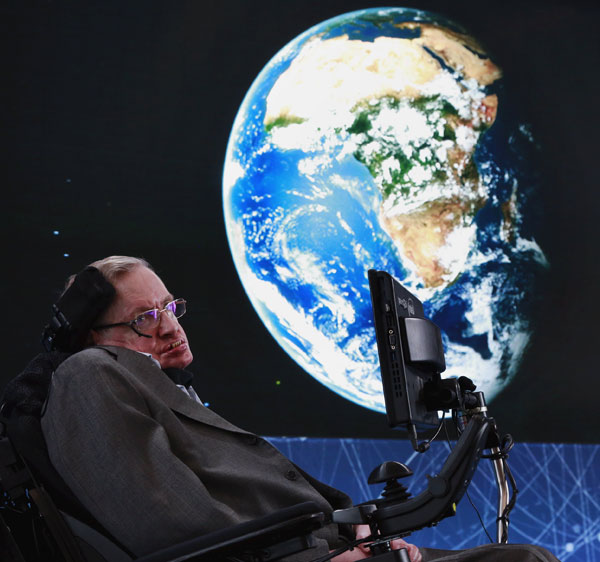 Stephen Hawking listens to the announcement of the Breakthrough Starshot initiative involving investor Yuri Milner in New York on Tuesday. LUCAS JACKSON / REUTERS
British physicist Stephen Hawking has opened an account on Chinese social media platform Sina Weibo, amassing more than 2 million followers within 24 hours.
Netizens, including those who are baffled by Hawking's scientific theories, expressed their admiration for him.
In his first blog post, at 10:12 am on Tuesday, Hawking, 74, reminisced about his trips to China and welcomed communication with Chinese people through social media. Within hours, the greeting had been forwarded more than 190,000 times and had generated more than 180,000 comments.
Hawking posted a second message, announcing a $100 million space mission with Russian billionaire Yuri Milner and Facebook founder Mark Zuckerberg. The mission was announced by Hawking and Milner at a news conference at the One World Observatory in New York City.
The bilingual blog post was forwarded more than 640,000 times and had received nearly 80,000 comments by Wednesday afternoon.
A netizen using the name ConanMC commented, "Hi, dear Mr Hawking. It's morning now in China. I am so happy that I can read such wonderful information just as I wake up. Although I cannot understand it completely, it is obvious that it will be a great breakthrough."
Others were less diplomatic.
"I do not understand his words, even in Chinese," netizen Yishu Benshen wrote.
Another, Ali Mumu, commented: "I do not understand a word he says, but I leave this comment to express my admiration for Hawking."
Hawking's new project, the Breakthrough Starshot, aims to build laser beam-propelled "nanocraft" that can travel at 20 percent of the speed of light, more than 1,000 times faster than today's swiftest spacecraft.
Once the "nanocraft" are built and deployed, they are expected to reach Alpha Centauri, a star that is 4.37 light-years away, in about 20 years.
Chen Xuelei, a researcher who specializes in dark matter research at the National Astronomical Observatories affiliated with the Chinese Academy of Sciences, said it is natural that Hawking's Weibo message has attracted attention, even if the physicist's participation in the project has more symbolic, than practical, meaning.
"The project is set to solve some technical problems, such as how to make a spacecraft into the size of a stamp and how to keep the laser beam aimed at the nanocraft over long distances. Solving these problems are not in the expertise of theoretical physicists like Hawking," Chen said.
Xinhua contributed to this story.