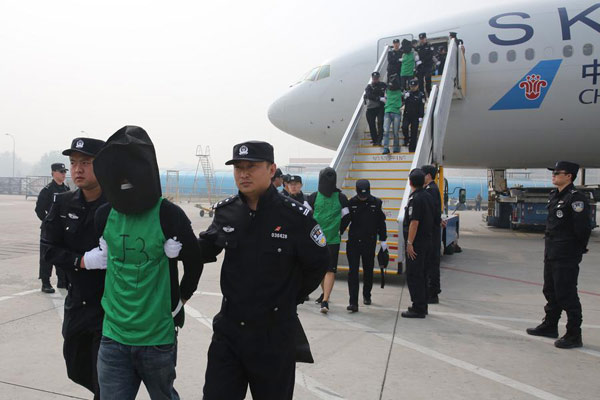 Telecom fraud suspectes are escorted off a plane by Chinese police from Kenya. [Photo/Xinhua]
BEIJING -- Kenyan police are deporting 77 Chinese telecom fraud suspects, including 45 Taiwan people, to the Chinese mainland.
The first group of 10 people were repatriated on Saturday and the remaining 67 are due to be sent back on Wednesday, the Ministry of Public Security confirmed. It will be the first time that China has repatriated such a large group of telecom fraud suspects from Africa.
In recent years, syndicates led by Taiwan citizens and based in Southeast Asia, Africa and Oceania have been falsely presenting themselves as law enforcement officers to extort money from people on the Chinese mainland through telephone calls, according to Chinese police.
The MPS said in a statement that judicial organs on the Chinese mainland have legal rights of jurisdiction over the repatriated suspects.
Mainland police will investigate the Taiwan suspects in strict accordance with the law and keep Taiwan authorities informed, the statement added.