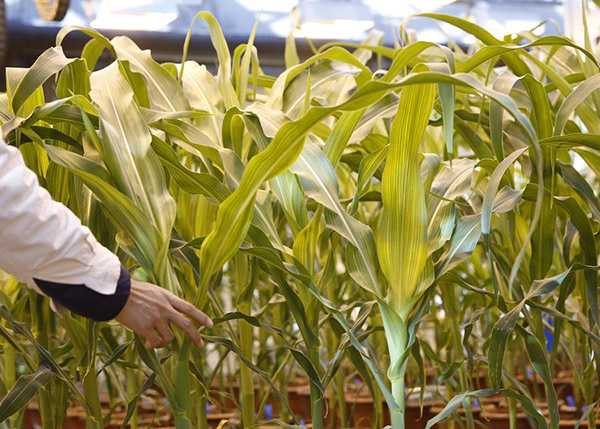 A researcher checks on corn plants in a green house cultivating natural corn and genetically modified corn in Syngenta Biotech Center in Beijing, China, Feb 19, 2016. Picture taken February 19, 2016. [Photo/Agencies]
China could push forward with the commercial cultivation of pest resistant, genetically modified corn over the next five years, a government official said on Wednesday.
Liao Xiyuan, head of the Agriculture Ministry's Department of Science, Technology and Education, told a news conference that the country was considering the move during the 13th Five Year Plan (2016-20) period.
He said the agricultural authority will also prioritize the commercial cultivation of GM cotton in the next five years.
"We will push forward industry strategies that emphasize commercial crops and crops that serve as industrial raw materials during the 13th Five-Year period," he said.
Liao added that China cannot afford to be left behind in the GM sector and will continue to push forward with its independent innovation efforts.
China's agricultural authorities have to approve GM grains before they can be marketed.