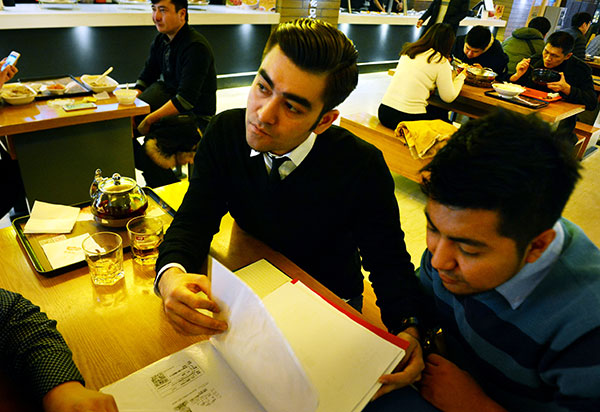 Almas Pulat (center) and his colleagues at Wemily, a fast-food restaurant brand in Urumqi, Xinjiang Uygur autonomous region. [Photo by Zhao Yong/China Daily]
Idea merges modern fast-food chain and a traditional Uygur delicacy
Almas Pulat's restaurant in Urumqi offers a rare combination: it is a modern, stylized fast-food outlet that features a traditional Uygur delicacy, a mutton pilaf known as zhuafan.
Within a year of opening the restaurant, called Wemily, Almas added a second eatery. And that's just the beginning. The 29-year-old, US-educated entrepreneur intends to develop the brand into a modernized fast-food chain, a McDonald's of traditional Uygur delicacy.
"It is not just the zhuafan we make. It is heritage and embracing our traditional ethnic cuisine," Almas said. "My goal is that someday, in countries other than China, you might be able to order a bowl of zhuafan."
In Northwest China's Xinjiang Uygur autonomous region, zhuafan is a staple dish that blends steamed rice, mutton, carrots, onions and, sometimes, dried fruits. It is popular among local ethnic groups, and increasingly, among others.
Almas grew up watching his father, Hushur Pulat, prepare the pilaf, develop the recipe and build the family's Mayflower brand into a successful business. His father owns the locally popular Mayflower chain, which has three restaurants and more than 100 employees. The star product, zhuafan, is so loved that "Mayflower" became as synonymous with zhuafan as "Starbucks is to coffee", Almas said.
Still, it took Almas a few years to realize that he could build a business from the family recipe, although he studied entrepreneurship during his four years at college in the United States.
In 2007, as a sophomore at Zhejiang University in Hangzhou, Zhejiang province, Almas joined an exchange program to the US. He was impressed by his US counterparts.
"They learned comprehensively in class and they enjoyed life cheerfully after class," Almas recalled.
Coming back, he spent a summer improving his English and a few months later, he enrolled in the University of Nebraska at Lincoln, where he spent four years.
"The experience of studying in the United States helps me a lot in my entrepreneurship," Almas said.